Students Co-Host Virtual NorCal Symposium on Climate and Pandemic Resilience in Health Care
December 29, 2020 | By Le Wen Chiu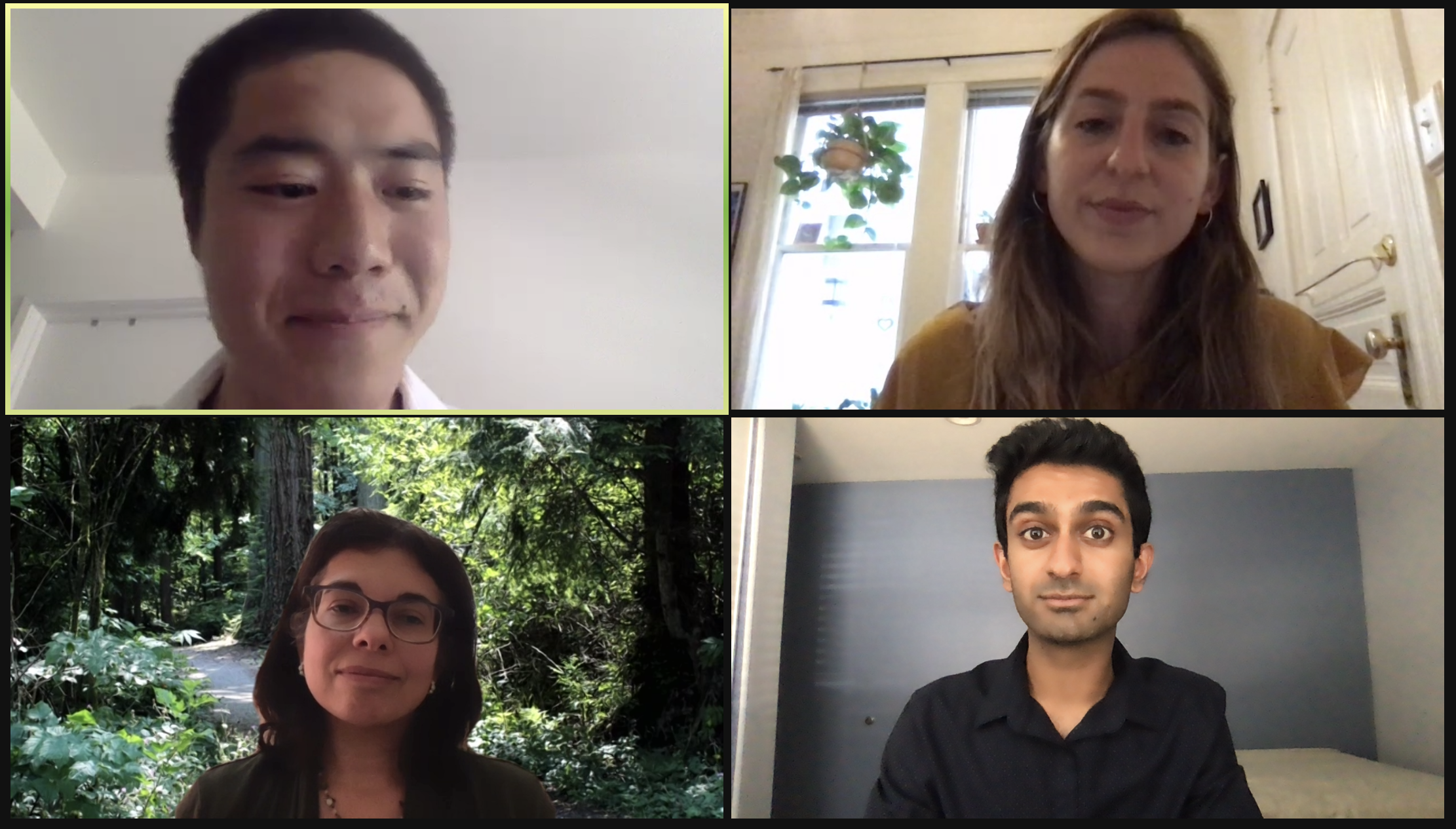 On September 25, 2020, students and faculty from UCSF and Stanford hosted the virtual NorCal Symposium on Climate and Pandemic Resilience in Health Care.
The symposium aimed to share practices for sustainable healthcare that improve resilience, promote equity, and mitigate climate change. In addition to UCSF and Stanford, other health systems and local community groups participated in the design and implementation of this interdisciplinary meeting. The day consisted of 6 concurrently running student-led sessions regarding community partnerships for climate/COVID-19 resilience, advocacy for healthcare professionals, disaster resilience, education/curriculum reform, sustainable/resilient food systems, and decreasing healthcare emissions. About 700 people attended the online symposium.
Dr. Talmadge E. King, Jr., Dean of the UCSF School of Medicine, and Mark Laret, Chief Executive Officer of UCSF Health, served on a panel with health care leaders from Stanford and UCSF to address the dual pandemic and climate crises.
"At the UCSF School of Medicine, our focus on health equity has shed light on the importance of advocacy for the vulnerable, who are not only disproportionately affected by environmental toxins and climate change in the developing world, but right here in our own backyard," Dean King said. "It is our collective responsibility to look at our system of education, research, care delivery, and patient advocacy, to find opportunities to institutionalize and expand our efforts. This task is greater than any one of us can tackle alone. We must work together to continue to build and share successes at each of our campuses that can be adopted across our systems, state, and nation."
Planning for the symposium began just three months prior, when students from Stanford reached out to students at UCSF to collaborate. The core planning committee consisted of medical, physician's assistant, dental, nursing, pharmacy, and undergraduate students along with residents, faculty, staff, and alumni from both institutions. The committee also brought in experts from other institutions and community organizations to get a diverse and local perspective on the topic.
"I was struck by the fact that ten percent of emissions in the United States comes from healthcare," said Rebecca Bromley-Dulfano, second-year Stanford medical student and core committee organizer. "We wanted this to be a space oriented around action, and locally-focused, so we can have a larger impact on a smaller area and try to link this event to change."
However, given the format of the virtual meeting, students and faculty were actually able to reach beyond the local community and share ideas with attendees nationally and globally as well. Most sessions had a series of action items that participants were encouraged to take up, Bromley-Dulfano said.
Actionable items discussed in the symposium, some of which are already being worked on by people across UCSF, included:
Setting up a meeting within the next month with medical school administrators to talk about opportunities to infuse climate education into the curriculum

Organizing an institution-wide grand rounds presentation that highlights the institution's waste and emissions in order to streamline production and improve efficiency

Joining an advocacy group focused on climate health initiatives
"If our planet is not healthy, we're not healthy," said Raj Fadadu, third-year student in the UCSF Joint Medical Program and UCSF student director for the symposium. "As a civilization, we cannot continue to survive unless we develop intentional, cross-sectoral solutions."
Fadadu added that the collaboration between UCSF, Stanford, and the Bay area community was very positive and beneficial. He thought the symposium sessions were inspiring, especially hearing the voices of individuals speaking from lived experience.
For example, in the education and curriculum reform session which followed a case-based learning format, one elderly community member came to speak about her experience with cardiopulmonary disease and mental health due to wildfire smoke pollution that plagued the Bay area in 2019 and 2020. Session attendees thought it was helpful to see concretely how climate change impacts health.
Gail Lee, Sustainability Director for UCSF Campus and UCSF Health, said the extreme weather events are all directly related.
"It is about the next generation," Lee said. "Every year there are more heat waves. Climate change is happening now, and there is no doubt the environment is connected to health. Whatever we can do now to protect the environment will affect our health in the future."
Lee presented UCSF Sustainability's carbon emissions and operations at the symposium in an effort to share best practices and help other health systems find ways to reduce their environmental impact. UCSF has been a leader in the implementation of sustainable healthcare practices, but there is always more we can do, Lee said.
"We take an oath to protect our patients' health as healthcare professionals, and a lot of environmental policies affect their health," Fadadu said. "It is a disservice to patients to not advocate for sustainability."
Bromley-Dulfano added that the environment is such an overwhelming determinant of health that healthcare providers would be neglectful to not try to address issues arising from climate change.
"Climate change can feel like this overwhelmingly huge, nebulous issue, but it is so easy to take one action to get a little more involved," she said. "There are a lot of people who would love to welcome you into the community."
Based on the positive response from the inaugural NorCal Symposium on Climate and Pandemic Resistance in Health Care, the organizers plan to make the event an annual meeting that continues to advocate for changes necessary to protect patients' health and the environment.