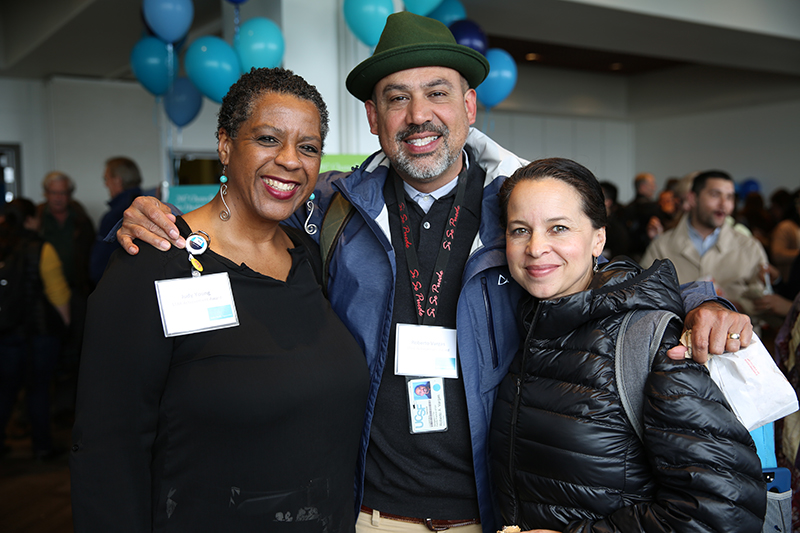 The UCSF School of Medicine would not be among the top six in the nation without the everyday dedication of its staff. Our employees deserve recognition for their hard work, and not just during Staff Appreciation Month. If you work for the school, do you know how you can help to recognize a co-worker? Do you know about all the opportunities you may have to advance your career and to reward yourself? Following are some awards, events and resources school employees — including faculty — can utilize for themselves, or to reward others:
Staff Appreciation Events
Each year, the School of Medicine hosts two Salute to Excellence receptions: one at Parnassus and one at Mission Bay. These informal receptions are an opportunity for you to come together with your colleagues and the school's leadership to celebrate and reflect on the past year, as well as recognize the winners of the Holly Smith Awards and other notable award recipients.  We know you are busy, so feel free to drop in for only a few minutes - or for the entire event - for a late afternoon Ben & Jerry's ice cream treat!
School of Medicine Staff Awards
The Staff Appreciation and Recognition Plan (STAR Program) is an opportunity to recognize individual employees for their outstanding efforts and accomplishments.  Nominations for deserving colleagues can be submitted for either a SPOT or STAR Award. Campus policy-covered staff and represented staff in the clerical (CX) bargaining unit are eligible for the new STAR Program. For more information about this program, please see our SOM STAR Program webpage.
The annual Holly Smith Awards for Exceptional Service to the School of Medicine recognize two faculty and two staff members who have exhibited exceptional career service that has resulted in broad and long-lasting benefit to the School of Medicine.  The award comes with a cash prize of $5,000.
Wings Employee Development Program
The WINGS program provides financial assistance for the professional development of the School's career staff employees. The program's goal is to aid in developing skills that prepare employees for career growth within the University. Check out the guidelines and start planning for your development today.
Benefits
The systemwide At Your Service website gives all UCSF employees access to their benefits, including your health benefits and retirement accounts. The Total Compensation Calculator provides you with an estimate of the value of your UC employment beyond your salary.
Questions? Find more information about and assistance with the benefits and opportunities available to UCSF School of Medicine employees by visiting the UCSF HR website.