In October 2017, the School of Medicine embarked on an inclusive and highly participatory strategic planning process that aimed to engage a diverse group of stakeholders across multiple geographies who, through their work together, set a bold vision for the coming years. The strategic planning process was overseen by an Executive Committee of the school's chairs and directors, a Steering Committee and five Working Groups. Our broader community also had a chance to share their input and recommendations.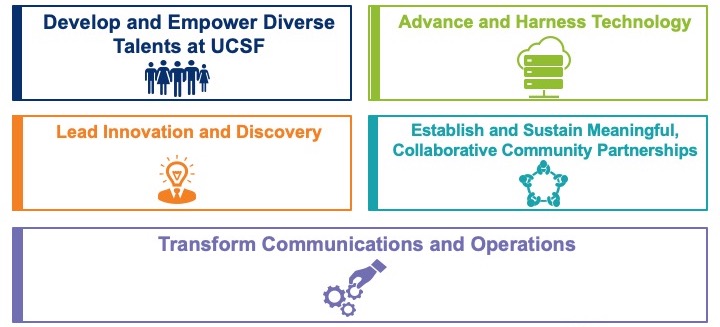 In order to achieve the goals we've set out for ourselves, we now embark upon implementation. Implementation teams are tasked to consider the relevance of these pillars in each of our unique ecosystems and environments, carry out experiments to test innovative interventions, and recommend next steps for structural change.
Teams formed in the beginning of 2019, and a final report of experiments, outcomes and next steps will be complete in summer 2020.
For additional information about our strategic plan, phases of implementation, ideas to incorporate, or suggestions for alignment, contact [email protected].