Stephen Floor, PhD, Qili Liu, PhD, and Mariana Duhne Aguayo, PhD, Among 2021 Pew Scholars & Fellows
June 15, 2021 | By UCSF School of Medicine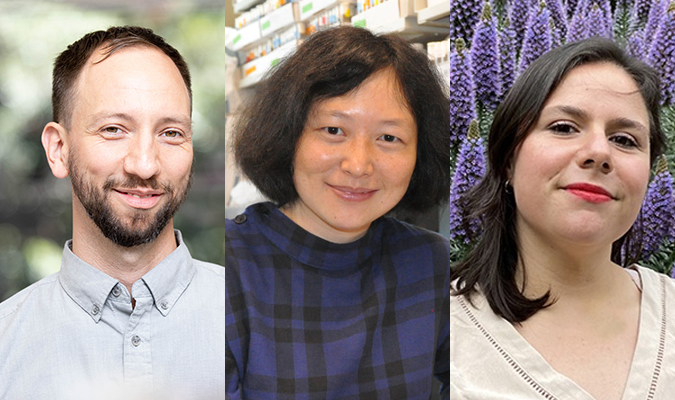 Stephen Floor, PhD, and Qili Liu, PhD, named Pew Scholars Program in the Biomedical Sciences
The Pew Charitable Trusts today announced that 22 early-career researchers have been selected to join the Pew Scholars Program in the Biomedical Sciences. These scientists will receive funding over the next four years as they investigate timely questions surrounding human health and disease.
"Pew has a history of supporting talented researchers who are committed to understanding intricate scientific processes," said Susan K. Urahn, Pew's president and CEO. "Our newest cohort of scholars is joining a large community of accomplished scientists who are dedicated to uncovering new solutions to significant biomedical challenges."
The 2021 class of scholars—all of whom are early-career junior faculty—join more than 1,000 other scientists who have received awards from Pew since 1985. Current scholars have opportunities to meet annually, share ongoing research, and exchange perspectives across the health sciences field.
Mariana Duhne Aguayo, PhD named Pew Latin American Fellow in the Biomedical Sciences
The Pew Charitable Trusts also announced today the 2021 class members of the Pew Latin American Fellows Program in the Biomedical Sciences. The 10 postdoctoral fellows from six Latin American countries—Argentina, Brazil, Chile, Mexico, Peru, and Uruguay—will receive two years of funding to conduct research in laboratories across the United States and will work under the mentorship of prominent biomedical scientists, including members of the Pew Scholars Program in the Biomedical Sciences.
"The field of biomedical research is continually faced with new challenges that require multiple perspectives from around the globe," said Susan K. Urahn, Pew's president and CEO. "Pew is proud to welcome these promising Latin American fellows to our network of researchers as they explore new solutions and advance scientific knowledge."
Fellows who choose to return to Latin America to launch their own research labs will receive additional funding from Pew. Approximately 70 percent of participants have pursued this path, contributing to the development of a more robust biomedical research community in Latin America.