School of Medicine Announces Commendations for COVID-19 Response and Anti-racism Work
December 8, 2020 | By Arego Mitchell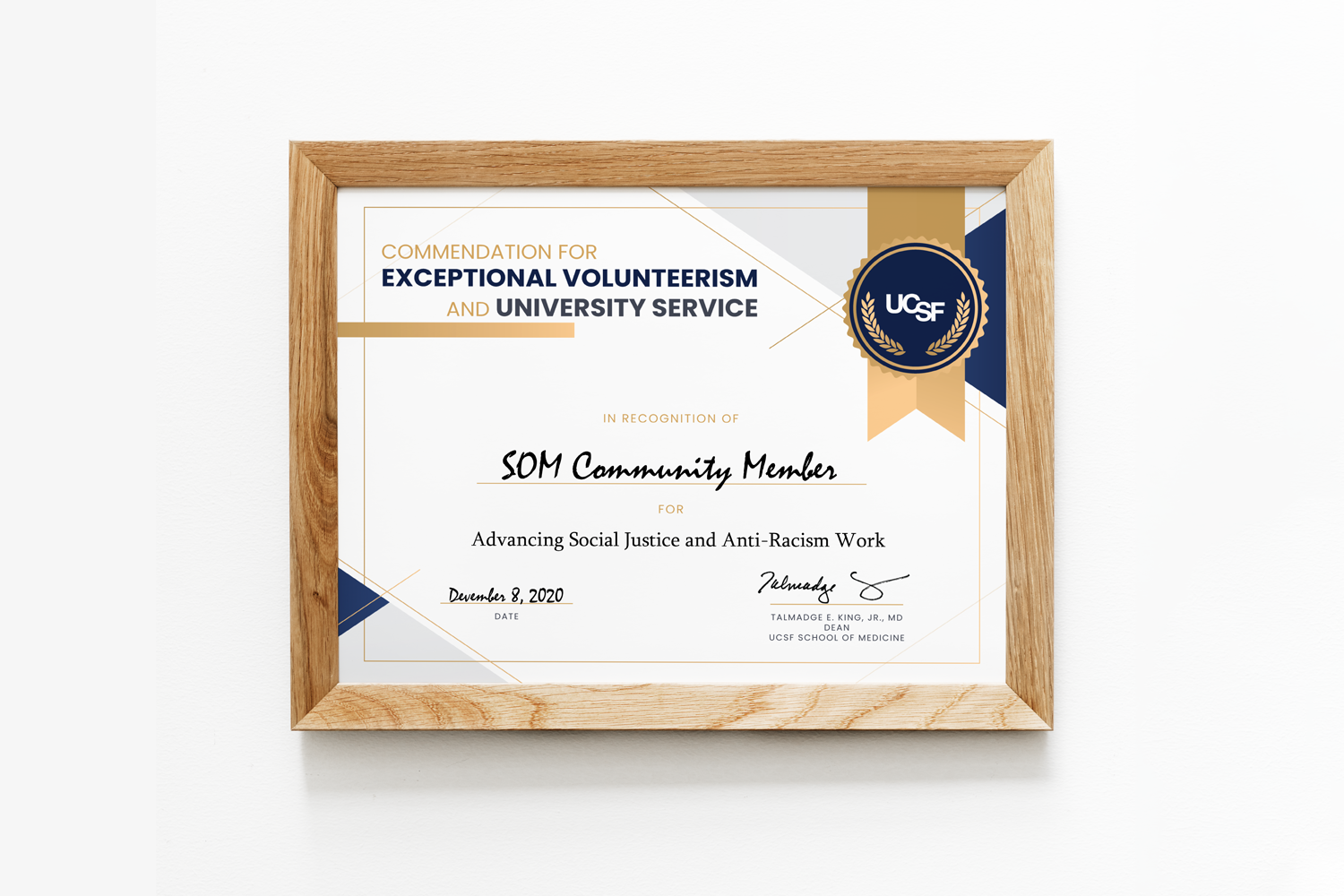 The School of Medicine is recognizing some of its most outstanding community members. Dean Talmadge E. King, Jr., has announced the first round of Commendations for Exceptional Volunteerism and University Service, acknowledging contributions to the school's COVID-19 response and anti-racism work. 
"These commendations come toward the end of a tumultuous year in which the UCSF community–and the world–has been dealing with two pandemics: COVID-19 and the health effects of structural racism," said Dean King. "Counteracting the impact of structural racism on our communities and ensuring that we are approaching race in medicine and science in as rigorous a way possible is one of the most complex problems imaginable, but one of the things that UCSF does best is to convene smart people from different disciplines to tackle thorny problems."
In early March when the scale and seriousness of COVID-19 was first becoming clear, faculty and staff worked quickly and tirelessly to pivot to online learning. As students were pulled from clinical rotations due to safety concerns, a sense of restlessness descended on the student body.
"As someone who wanted to go into medicine, I felt like I was missing out on two things: the education I'd been craving for years, and the opportunity to participate in the care of patients in this unique time in the world," said Abe Cortez, MS3.
School of Medicine learners, never inclined to stay still for long, immediately jumped into action. Though they weren't able to work with COVID patients directly, they knew they could help in other ways. By late May, students had coordinated blood drives, developed COVID literacy materials, worked for grocery delivery services, participated in virtual and phone social visits with seniors at various community senior assisted living centers, and more. 
In the DeRisi Lab, quick thinking and dedication led to the creation of a COVID-19 testing lab in just over a week's time. The staff were able to run the first patient samples at the CLIAhub diagnostic laboratory on March 20, just two days after its certification and four days after several Bay Area counties issued the first shelter-in-place orders. 
"What makes this especially unique is that we utilized almost 100% graduate students & post-doctoral volunteers," said Joe DeRisi, PhD, co-president of the Chan-Zuckerberg Biohub, which hosts the lab. "We knew we had to work quickly to act as a bridge," as other organizations worked to develop tests and get their labs off the ground too.
"When I first signed up, there were at least 200 people within the first week, just from the UCSF community, who had volunteered," said Daniel Conrad, cell biology PhD student and CLIAhub volunteer. "It's really great to see that people... [want] to donate their time, basically, to work on something together."
That quick work allowed them to rapidly scale UCSF's testing capacity, and soon they were able to offer testing across the state. Over the last 8 months, the lab has provided more than 164,000 tests to Californians free of charge. They were also able to process daily tests from residents of San Quentin State Prison and Alameda County's Santa Rita Jail, both of which saw early surges in COVID-19 cases. 
"We've managed to not only keep ahead of the volume at UCSF but also help expand testing for the entire state," said Ed Thornborrow, MD, PhD, Medical Director of UCSF Clinical Laboratories. "I don't think that would have been possible without the work and support of so many people. It was definitely one of those 'it takes a village to test a village' kind of things."
A Model for the Nation: Building a COVID-19 Testing Lab in Only Eight Days - Chan Zuckerberg Initiative
Toward the end of May, as the many unknowns around COVID-19 came into clearer focus, the police killing of George Floyd in Minneapolis sparked nationwide protests. Even as clinicians and scientists were beginning to realize the outsized impact of the coronavirus on the Black community and other communities of color, the inequality of American systems was thrown into sharp relief.
Students in the School of Medicine saw an opportunity. This was a chance to not only stand up for what they believe in, but also put their expertise to use. 
"Our learners wanted to support the demonstrations, but they wanted people to be safe," said Associate Dean for Students, Lee Jones, MD. "So they organized, went out, and offered services and masks to demonstrators."
Student leaders in the UCSF chapters of the Student National Medical Association and White Coats for Black Lives also saw the opportunity to advocate for greater change within UCSF, presenting interventions and ideas to leadership to make medical education more equitable.
Reuben Hogan, a student in the MD-PhD program and outgoing co-president of SNMA, said that for the group, the issue was twofold. "The immediate need was to support Black students who were suffering right now," he explained. "The ongoing need is to change institutional structures that enable the violence that disproportionately affects Black people and other people of color."
The list of interventions SNMA created initially focused on the School of Medicine, but the group soon realized that a lot of the same opportunities for change existed across campus. "We can't say we're doing everything to fix this if we're not looking in every nook and cranny," said Hogan. In short order, they had a democratically assembled list to present to a campus leadership. And, said Hogan, it was clear that the institution cared about making positive change.
"In past situations, these conversations have been really hard: fighting to explain what it's like, fighting to get people to understand. In advocating for these changes, I haven't felt like we've  received undue resistance," said Hogan.
"To me, this commendation symbolizes how much our deans value student advocacy," said Jazzmin Williams, MS3, a member of White Coats for Black Lives. "The work isn't easy; it takes a lot of time and effort on the parts of both student organizers and our deans who respond to our calls to action. But in the end, we are motivated to work in partnership because of our shared goal of pushing the School of Medicine to better fulfill its mission of training a physician workforce capable of achieving health equity."
As the most hectic year in recent memory draws to a close, the School of Medicine can be proud of the myriad ways its faculty, staff, and learners have demonstrated ongoing commitment to health equity. Doing this hard job on top of class work, clinical rotations, graduating into residency and fellowship, and even entering into medical school for the first time, has proven that there are few limits to their excellence.
"Our students have skills, talents, and experience that make them natural leaders. They're amazing collaborators–with each other and with School of Medicine leadership–and we continue to learn from their lived experiences," said Dean Jones.
If you know of a group who has demonstrated exceptional volunteerism outside the scope of their university role and would like to nominate them for a commendation, please fill out this form, so they can be recognized by the School of Medicine.