Remembering John S. Greenspan, BDS, PhD
April 6, 2023 | By UCSF School of Medicine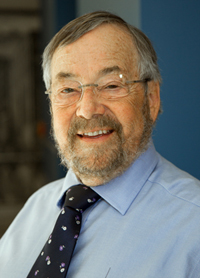 It is with profound sadness that we share the news that John S. Greenspan, BDS, PhD, a distinguished professor emeritus of Pathology in the UCSF School of Medicine, Director-Emeritus of the AIDS Research Institute at UCSF, and co-founding Director of the UCSF Oral AIDS Center and the UCSF AIDS Specimen Bank, passed away on March 31, 2023. He was 85.
 
Dr. Greenspan, also a distinguished professor emeritus of Oral Pathology in the Department of Orofacial Sciences and the former Associate Dean for Global Oral Health in the UCSF School of Dentistry, enjoyed a research career that spanned more than five decades and included numerous groundbreaking discoveries in the field of oral medicine.
 
He was particularly interested in the relationship between oral health and HIV/AIDS, and his work helped establish the field of oral HIV/AIDS research. Dr. Greenspan's research also focused on oral cancer and the oral manifestations of autoimmune diseases and spanned epidemiology, public and global health, and implementation science. Working with his wife Deborah, he became well known for the identification of the oral condition "hairy leukoplakia" early in the AIDS epidemic, and identified a connection between the condition and the Epstein–Barr virus.
 
Dr. Greenspan served as president of both the American Association of Dental Research and the International Association of Dental Research and as chair of the University of California Faculty Senate. He was a recipient of many prestigious awards, including the American Association for Dental Research Distinguished Scientist Award, the American Dental Association Gold Medal Award for Excellence in Clinical Research, and with his wife Deborah, the UCSF Academic Senate Research Award in Translational Science. He was also a member of the National Academy of Medicine.
In addition to publishing more than 300 papers and four books on oral aspects of AIDS, oral pathology, and immunopathology, Dr. Greenspan was a sought-after speaker featured at many international meetings. He was an associate editor and board member of several journals and was a founding editor of the journal Oral Diseases.
Throughout his career and until the very end of his life, Dr. Greenspan remained a devoted teacher and mentor, inspiring and guiding generations of medical and dental investigators. He supervised or mentored more than 120 physician and dental scientists, and was generous with both guidance and advice to those he mentored. 

Dr. Greenspan's legacy will continue to inspire and inform the work of researchers and clinicians in the field of oral medicine and beyond for years to come. The School of Medicine extends our condolences to Dr. Greenspan's family, friends, and close colleagues. His loss will be felt far and wide.