Announcing Licia Selleri, MD, PhD as Director of UCSF Program in Craniofacial Biology
March 17, 2023 | By UCSF School of Dentistry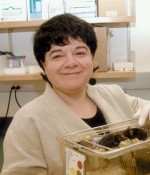 We are excited to announce that Licia Selleri, MD, PhD has assumed the role of director of the UCSF Program in Craniofacial Biology (PCB), effective March 1. She succeeds Ophir Klein, who served as director since 2009 and built the program into a national beacon for research on the biology of the craniofacial complex.   
Licia is a professor of orofacial sciences in the School of Dentistry and a professor of anatomy in the School of Medicine. For more than two decades, she has focused her research on the genetic and transcriptional basis of tissue formation during development and how perturbation of these processes leads to birth defects. A member of PCB for seven years, Licia has engaged in fruitful collaborations with many members of the program.  
Complementing her collegial spirit is a passion for mentorship, which she says is the most fulfilling aspect of her academic career. Numerous graduate students, post-doctoral fellows and instructors have benefitted from her guidance, and she is also an active participant in the PROPEL Program which trains post-baccalaureate students from disadvantaged backgrounds in preparation for graduate or health professional school. 
As director of PCB, Licia intends to lead the program by bringing together an even broader cohort of UCSF investigators interested in studying the cellular and molecular processes that shape craniofacial structures. In addition to extending the reach of the program to new disciplines such as bioengineering and fetal therapy, her goals are to expand the program's high quality basic and translational research and pursue new avenues for the early repair of craniofacial birth defects. She will continue to build PCB's clinical partnerships across UCSF, which currently include the UCSF Fetal Treatment Center and the UCSF Craniofacial Center. 
We are confident that Licia will bring strong leadership to PCB and further its status as a nationally recognized research program. 
Please join us in congratulating Licia on her new appointment. Please reach out to her to learn more about how to get involved with PCB.