Aimee Kao, MD, PhD Appointed MSTP Director at the UCSF School of Medicine
June 24, 2021 | By UCSF School of Medicine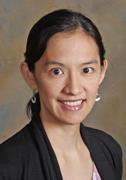 We are delighted to announce that Aimee Kao, MD, PhD, Associate Professor of Neurology and the John Douglas French Foundation Endowed Professor will be the next director of the Medical Scientist Training Program (MSTP) effective July 1, 2021.
Dr. Kao is an award-winning physician scientist whose laboratory studies the basic mechanisms underlying neurogenerative disorders. She co-directs the Alzheimer's Disease Research Center Biomarker Core. Dr. Kao received the Glenn Award for Research in the Biological Mechanisms of Aging and the Derek Denny Brown Young Neurological Scholar Award, the American Neurological Association's most prestigious award for early to mid-career scientists.
A dedicated educator and mentor, Dr. Kao maintains an active clinic in the Memory and Aging Center and teaches medical students in the Brain, Mind, and Behavior block. Dr. Kao has mentored more than 25 researchers throughout her career and is a research mentor in the UCSF SRTP and San Francisco Build Scholars program. She co-chairs the Neuroscience Graduate Program's Diversity, Equity and Inclusion Committee and has been a member of the MSTP Council since 2015.
A graduate of Brown University, Dr. Kao received her MD and PhD degree in Biophysiology and Biophysics from the University of Iowa, and completed her residency and postdoctoral work at UCSF.
We would like to thank the Search Committee led by John Davis, PhD, MD, Associate Dean for Curriculum and Interim Associate Dean for Students and David O. Morgan, PhD, Vice Dean for Research for their invaluable work in the recruitment process. 
Dr. Kao succeeds Mark Anderson, MD, PhD, Professor of Medicine who helmed the MSTP for eight years and recently accepted the Interim Director position at the Diabetes Center.
Please join us in welcoming Dr. Kao to her new leadership role!