UCSF School of Medicine Class of 2019 Graduation Ceremony Reflects Commitment to Health Equity
June 11, 2019 | By Lesley Snyder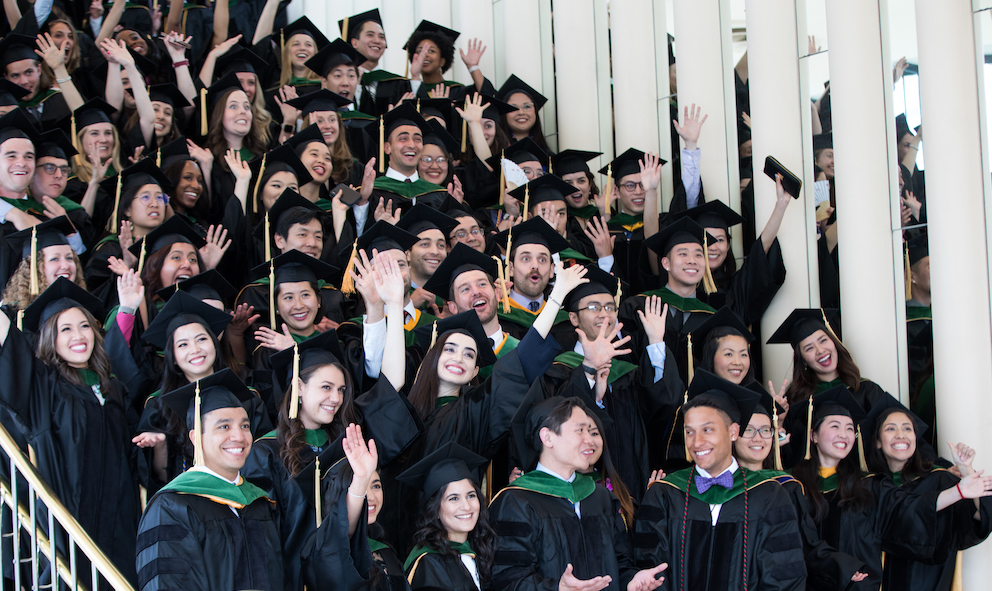 "Your time in medical school has prepared you to collaborate and take on many challenges — advancing and applying science, using technology for good, not evil; building new systems that both sustain high quality patient care and support wellness for the care providers," said Dean Talmadge E. King, Jr., MD, addressing 166 new graduates, friends, and families at this year's UCSF School of Medicine commencement at Davies Symphony Hall.
"I also hope that you will use your skills to tackle another of the biggest challenges of our time — that of health care disparities. Blacks, Hispanics, Native Americans and those of Asian/Pacific Islander heritage continue to receive lower quality health care in almost all conditions. People with low socioeconomic status and people living in rural environments also have worse health outcomes," he continued. "Health inequities are rooted in social injustices that make some population groups more vulnerable to poor health than other groups. These disparities limit overall gains in quality of care and health for the broader population and result in unnecessary costs -- over $413 billion per year in direct and indirect medical costs. As the population becomes more diverse, addressing this issue will be increasingly important."
Dean King was chosen by the graduating class as this year's keynote speaker at commencement. "We would love nothing more than to finish the same way we started, with you guiding us into this next stage of our careers with parting words of wisdom," wrote students Alexandra Rojek and Nick Murphy, on behalf of the Class of 2019 Keynote Speaker Selection Committee. "In addition to that, we selected you because of your incredible commitment to so many of the causes that we hold dear as a class – commitment to the underserved, to diversity within medical education and beyond, and as a leader without comparison in your field."
Following Dean King's remarks, graduating student Elena Vasti, who was selected by a committee of her peers, delivered the senior address. Elena grew up in Stockton, CA and attended UC Davis, where she majored in Human Development. Through her work with teens in the Yolo County foster system as a theater coach, she became passionate about community-based health interventions for underserved communities. Even though she is an avid Giants fan, Elena attended the UCLA Field School of Public Health for her MPH in Community Health Sciences in Epidemiology. Her thesis was focused on improving mental health resources for veterans with military sexual trauma. She will begin residency at Stanford Health Care in Internal Medicine, where she hopes to continue working on health disparities in cardiovascular disease.
"[You are] ready to act as doctors on behalf of vulnerable communities, to break the fourth wall and call out inaction," Vasti said to her fellow classmates. "Ready to act as human beings from the unique fabric of every experience and every role you have ever played, that has brought you where you are today, to take care of others. Places, Class of 2019. I'll see you out there."
Many students in this year's graduating class were committed to conducting research aimed at bringing better care to at-risk or underserved communities in the US and abroad. A few examples:
Joanna Jacobs has participated in a number of social justice and inclusion efforts for the gender minority population, including: serving as a planning committee member of UCSF's LGBTQIA Health Forum; participating as a panelist at UCSF's "Eye Opening Conversation" for faculty and administration on LGBTQ inclusion; collaborating with the administration and LGBT Health Curricular Topic Steward to advance medical student education on the topic of gender minority health; designing curriculum and teaching UCSF medical students relevant transgender health topics in their Ob/Gyn clerkship; conducting a faculty development workshop on transgender health at a national conference. Joanna will study otolaryngology at Oregon Health & Science University.
Jirayut "New" Latthivongskorn completed the program in Medical Education for the Urban Underserved, a five-year track for students focused on serving marginalized communities. He was the university's first undocumented student. New, along with other students, formed a group called Pre-Health Dreamers (PHD), with the goal of supporting undocumented students pursuing careers in health and science. Today, PHD has a network of 250 students across the US, and provides resources, information, and mentorship, in addition to advocating for institutional changes to make graduate and health professional schools more welcoming of undocumented immigrant students. New will start his residency training in family and community medicine at Zuckerberg San Francisco General Hospital in June, through a UCSF program.
Irving Ling worked on developing and conducting The BRAVE Study 1 – the first research to specifically look at the health and healthcare experiences of undocumented Asian and Pacific Islander (API) young adults in the Bay Area. As a Yearlong Pathways Research Fellow, he also worked on The BRAVE Study 2, an internet-based survey of API and LatinX undocumented young adults in California. He also is exploring the experiences of federally qualified health centers in developing safe clinic policies for immigrant patients, as well as on the applications of queer theory in collecting sexual orientation and gender identity information in healthcare settings. Irving will study internal medicine-primary care during his residency at UCSF in the SFPC program.
Amanda Onyewuenyi completed a Masters of Public Health focused on global women's health and systems strengthening between her third and fourth year of medical school. Her passion for improving access to quality reproductive care led to her involvement in a research project that studied women's patterns in contraceptive demand and use of contraceptive methods in Nigeria. Through organizations such as the Student National Medical Association and the Bixby Center for Global Reproductive Health, Amanda has been able to continually engage in work that addresses health disparities in both the Bay Area and other Sub-Saharan African countries. Amanda will specialize in obstetrics and gynecology at Howard University.