Remembering John Kerner, MD
July 5, 2023 | By UCSF School of Medicine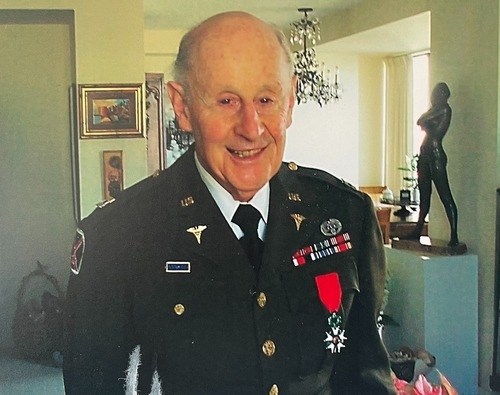 It is with profound sadness that we share the news that John Kerner, MD, a distinguished professor emeritus of Obstetrics, Gynecology & Reproductive Sciences, passed away on June 18, 2023, aged 104.
Dr. Kerner graduated from the University of California, Berkeley and the UCSF School of Medicine, serving in the Reserve Officers' Training Corps (ROTC) while in school. He started graduate training in Obstetrics and Gynecology at UCSF in 1943. He had not quite finished his internship when he was called to active duty in the Army on December 24, 1943. He was commissioned as a first lieutenant and assigned to the 35th Infantry Division, which was to take part in the invasion of Normandy in 1944. In that unit, he soon became commander of a combat medic battalion aid station. As a battalion surgeon and combat medic, Dr. Kerner served with great distinction on the battlefields of Omaha Beach, Saint-Lô, and Bastogne.
During World War II, Dr. Kerner revolutionized the treatment of wounded soldiers, introducing innovations like elastic bandages, now standard in the U.S. Army. He received multiple military honors, including the Combat Medic Badge, two Bronze Stars, five Battle Stars, and a Presidential Unit Citation. In 2007, he was awarded the Legion of Honor medal by French President Nicolas Sarkozy. He was inducted into the 35th Infantry Hall of Fame in 2012.
After the war, Dr. Kerner returned home to California. During his residency studies at UCSF, he worked closely with Dr. Herbert F. Traut, who had helped to develop the Pap smear. Along with Dr. Traut, Dr. Kerner was instrumental in ensuring that women in the community had access to these critical screenings, which drastically reduced the instances of cervical cancer.
Dr. Kerner later became the founding director of the Obstetrics and Gynecology Department at Mount Zion Hospital, where he taught the next generation of physicians and served as chief of staff before establishing his own private practice. At the time of the NCI-designation of UCSF as a Comprehensive Cancer Center, Dr. Kerner ensured that gynecologic cancer research was represented at the Mount Zion Clinical Cancer Center through the creation of the Kerner Endowed Chair in Gynecologic Oncology for its first chair holder, Dr. Karen Smith-McCune. To honor Dr. Kerner and his groundbreaking work, UCSF established the John A. Kerner Distinguished Professorship in Gynecologic Oncology, focusing on cancer research and patient care for women.
Throughout his career, Dr. Kerner delivered nearly 2,000 babies and introduced innovative programs like prepared childbirth, allowing husbands in the delivery room, implementing fetal monitors, and pioneering an Alternative Birth Center at Mount Zion. His remarkable contributions earned him numerous honors, including the Distinguished Service Award from Mount Zion, Alumnus of the Year from UCSF, and two aforementioned endowed chairs in oncology that bear his name.
Dr. Kerner's retirement allowed him to pursue his passion for writing, publishing four books: "Combat Medic World War II," "A Combat Medic Comes Home," "San Francisco Heroes I Have Known," and "Travels with Gwen" – his wife of 75 years. He also remained engaged in cancer research, providing financial support and establishing a group for developing anti-cancer drugs. His research success with anti-cancer drugs led to starting his own company, Tri Act Therapeutics, which has successfully developed a drug to treat glioblastoma.
"Dr. Kerner has been a constant unwavering supporter for UCSF, Obstetrics, Gynecology & Reproductive Sciences, Mount Zion, cancer prevention, reaching the underserved, and finding new approaches to cancer care for over half of the past century," said long-time colleague and John A. Kerner Distinguished Professor in Gynecologic Oncology, Dr. Lee-May Chen. "For many years, his wife Gwen would also volunteer to collect patient follow-up information for the UCSF Cancer Registry, and when not dedicating their time to service and Mount Zion, Dr. and Mrs. Kerner would be traveling the world, seeing sights, attending performances, and interacting with the world that they both helped make better. Both of them believed in Team Gyn Onc, bringing enthusiasm and interest in developing our team and its projects. We will miss them dearly."
Dr. Kerner's legacy will continue to inspire and inform the work of researchers and clinicians in the field of gynecologic oncology and beyond for years to come. The School of Medicine extends our condolences to Dr. Kerner's family, friends, and close colleagues. His loss will be felt far and wide.