Leadership Transition in the School of Medicine
January 12, 2022 | By UCSF School of Medicine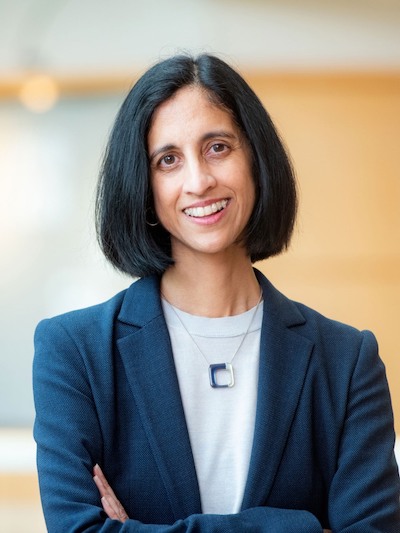 We write to share that Tejal Desai, PhD is transitioning from UCSF to join Brown University's School of Engineering as Dean. Dr. Desai is currently a professor in the Department of Bioengineering & Therapeutic Sciences and Inaugural Director of the UCSF Engineering and Applied Sciences Initiative known as HIVE (Health Innovation Via Engineering). She was also Founding Director of the UCSF/UC Berkeley Masters Program in Translational Medicine. She will join Brown University's School of Engineering as Dean, effective September 1, 2022.
A UCSF faculty member since 2005, Dr. Desai is an expert in applying micro- and nanoscale technologies to create new ways to deliver medicine to targeted sites in the human body. With a professor in residence appointment at UC Berkeley, she has led a National Institutes of Health training grant for the UCSF/UC Berkeley Joint Graduate Group in Bioengineering since 2008. She is also the immediate past chair of the UCSF Department of Bioengineering & Therapeutic Sciences, having served in the role for seven years before stepping down in October 2021. 
Before her arrival at the University of California, she helped to launch new undergraduate and graduate curricula, as well as new teaching and technology labs at Boston University and the University of Illinois at Chicago. She received her BS from Brown University in biomedical engineering in 1994 and was awarded a PhD in bioengineering jointly from UCSF and UC Berkeley in 1998.
In her own research, Dr. Desai leads the Therapeutic Microtechnology and Nanotechnology Laboratory at UCSF. Along with her students and collaborators, she has developed material systems aimed at enhancing tissue regeneration, as well as platforms that work synergistically with human physiology to address autoimmune disorders and other conditions. Dr. Desai has published nearly 250 academic research papers that have been cited collectively over 22,000 times, and her work has generated 27 U.S. patents issued or pending. Dr. Desai has earned recognition as one of MIT Technology Review's Top 100 Young Innovators, as one of Popular Science's Brilliant 10, and as the winner of the 2012 Paul R. Dawson Biotechnology Award from the American Association of Colleges of Pharmacy. She is an elected member of the National Academy of Medicine and the National Academy of Inventors, as well as president of the American Institute for Medical and Biological Engineering (AIMBE).
A staunch advocate for diversity, equity, and inclusion in engineering and academia, Dr. Desai's work to break down barriers to equity and cultivate a climate of inclusion was recognized with the Judith Poole Award from the Association for Women in Science and the UCSF Chancellor Award for the Advancement of Women. As president of AIMBE, she launched an anti-racism summit focusing on policy transformation in bioengineering, as well as an annual meeting to explore ways in which engineers can address racial and other disparities in health care. 
Dr. Desai has been a transformative leader of programs that develop and support young researchers, foster cross-disciplinary approaches to critical engineering challenges, and support diversity, equity, and inclusion in engineering. Please join us in thanking her for her many contributions to the UCSF Schools of Medicine and Pharmacy, the Campus, and the field of engineering.