Leadership Transition in the Center for Health and Community
February 17, 2022 | By UCSF School of Medicine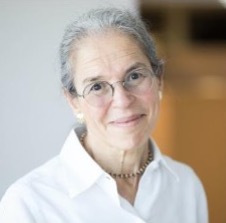 As Dean Talmadge E. King, Jr., MD recently announced in a message to the School of Medicine, Nancy Adler, PhD is retiring after more than 45 years at UCSF, and stepping down as Director of the UCSF Center for Health and Community (CHC). Aric Prather, PhD will serve as the interim director of the CHC, effective March 14, 2022.
Dr. Adler is the Lisa and John Pritzker Professor of Psychology in the Departments of Psychiatry & Behavioral Sciences and Pediatrics and vice chair of Psychiatry and Behavioral Sciences. She directs the National Program Office of the Robert Wood Johnson Foundation's Evidence for Action Program, which supports research on programs and policies that aim to improve population health and advance health equity. 
Dr. Adler's early research used decision theories to deepen understanding of the. causes and consequences of health behaviors, especially those influencing reproductive health.  As director of the John D. and Catherine T MacArthur Foundation Research Network on Socioeconomic Status and Health, she led a decade-long transdisciplinary collaboration which identified the mechanisms by which social disadvantage damages human health. Her measure of self-perceived social status is being used worldwide in research on social determinants of health.
Dr. Adler served on the Advisory Committee to the Director of NIH, one of a small number of social scientists to do so. More recently, she led a National Academy of Medicine initiative to expand and standardize electronic health record data on social determinants of health and document the impact of such information on clinical care and health outcomes. 
A generous and effective mentor for junior faculty, fellows, and students at UCSF, Dr. Adler headed the UCSF-UCB site for the RWJF Health and Society Scholars Program.  Her UCSF awards reflect her multifaceted contributions.  These include the 1995 Chancellor's Award for the Advancement of Women, 2009 Lifetime Achievement in Mentoring Award, 2014 Holly Smith Award for Exceptional Service to the UCSF School of Medicine, and 2015 Faculty Research Lecturer in Clinical Sciences
She has been elected to the National Academy of Medicine and the American Academy of Arts and Sciences, and was selected by Thomas Reuters as one of the "World's Most Influential Scientific Minds" Other national awards include the American Psychological Society's James McKeen Cattell Award, the American Psychological Association's Distinguished Scientific Award for the Application of Psychology, and the Institute for Women's Health Leadership's Marion Spencer Fay Award. She was awarded the National Academy of Medicine's David Rall Medal, the New York Academy of Medicine's Medal for Distinguished Contributions to Biomedical Sciences and the Interdisciplinary Association for Population Health Science's (IAPHS) J. Michael McGinnis Leadership Excellence Award.  
A graduate of Wellesley College, Dr. Adler earned her PhD in Psychology from Harvard University.