Hani Goodarzi, PhD, Awarded Vilcek Prize for Creative Promise in the Biomedical Sciences
October 20, 2021 | By Le Wen Chiu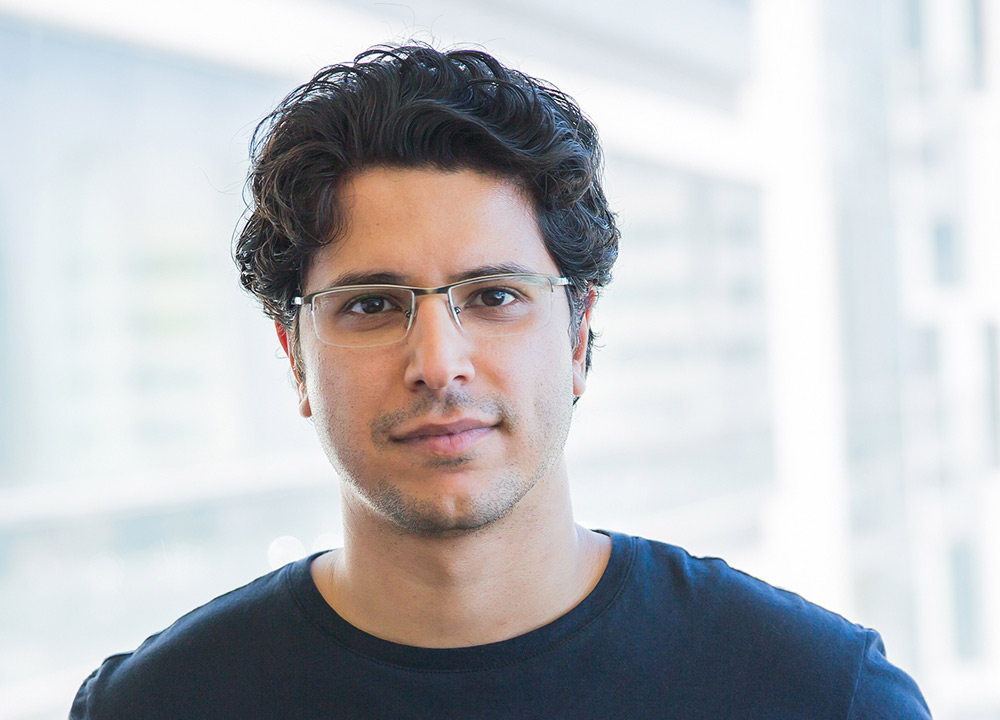 Last month, Hani Goodarzi, PhD, received a $50,000 award for his work in the early detection of cancer and identification of therapeutic targets in cancer metastasis.
Dr. Goodarzi, Assistant Professor in the Department of Biochemistry and Biophysics with affiliations in the Department of Urology, Helen Diller Comprehensive Cancer Center, and Bakar Computational Health Sciences Institute, earned the Vilcek Prize for Creative Promise in the Biomedical Sciences in September. The prize is awarded to young immigrant professionals who have demonstrated outstanding achievements in their early careers. Dr. Goodarzi is one of three winners in the biomedical sciences this year.
"I was ecstatic to learn I was awarded this prize," Dr. Goodarzi said. "This is important to me because there is not really any other award in the biomedical sciences dedicated to immigrants in the US. I have always been very passionate about the issues and challenges immigrants face."
In 2006, Dr. Goodarzi moved to the US from Iran to pursue his doctorate degree in computational biology and genomics at Princeton University. After completing his postdoctoral fellowship at Rockefeller University in cancer systems biology, he started his multidisciplinary lab at UCSF in 2016.
Using modeling and computational methods to study breast cancer metastasis, Dr. Goodarzi regards his lab as an amalgamation of computational and experimental biology. He loves collaborating with a diverse group of scientists who are at the top of their fields to look at cancer from new perspectives.
"[Dr. Goodarzi] is absolutely a rising star at UCSF," said Jeremy Reiter, MD, PhD, Professor and Chair of the Department of Biochemistry. "He is choosing his research questions wisely, and having two realms of expertise makes him a particularly effective discoverer of new biology."
Dr. Goodarzi believes it is important to be in an environment that fosters and augments his interests, citing that as the motivation behind his immigration to the US — he wanted to surround himself with people dedicating their careers to the pursuit of knowledge. He states that science and technology in the US are really driven by immigrants. Unfortunately, he thinks there are few international students in the graduate programs at UCSF. As of Fall 2020, 9.2% of PhD students were international, and Master's students averaged about 25% international.
"That is something we have to change if we want to capture that broader global diversity and enrich our student body," Dr. Goodarzi said. "Every single one of my mentors were themselves immigrants."
Going forward, Dr. Goodarzi hopes to advocate for younger generations to make the pursuit of  knowledge in a foreign country easier for them. He knows that more diversity among investigators means more vantage points and more opportunities to solve problems.
"These vantage points are very much driven by our upbringing, culture, and where we come from," Dr. Goodarzi said. "There is not a one-size-fits-all approach in how we think about science."
Dr. Reiter said that Dr. Goodarzi exemplifies some of the many things immigrants bring to our society, including scientific advances. Good-natured, humble, and conscientious, Dr. Goodarzi is deeply devoted to his group members, ensuring they are well-supported in their abilities to do good science.
The department is extremely happy for him and very proud of him to be recognized by the Vilcek Prize. 
"[Dr. Goodarzi] is a great example of somebody who has followed their curiosity and is making impactful discoveries that are driven by pure love of discovering the new," Dr. Reiter said. "There is no one who is better suited to be recognized for his contributions."