Announcing Dyche Mullins, PhD, as Chair of the UCSF Department of Cellular and Molecular Pharmacology
October 26, 2022 | By UCSF School of Medicine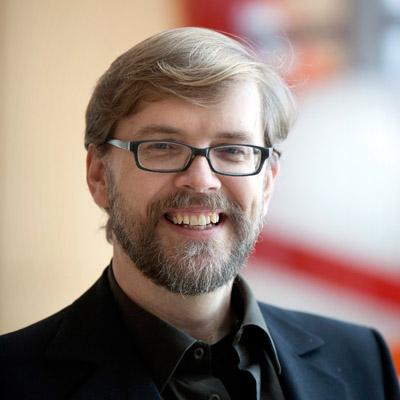 We are pleased to announce the appointment of Dyche Mullins, PhD, as Chair of the UCSF Department of Cellular and Molecular Pharmacology (CMP), effective November 1, 2022. 
Dr. Mullins joined the faculty of CMP in 1999 and has served the department as both Vice Chair and Department Diversity Leader. He is passionate about graduate education, serving three terms as Chair of the UCSF Graduate Council and one term on the UC-wide Coordinating Council on Graduate Affairs. As a member of several UCSF Graduate Groups – including Tetrad, Biophysics, and Bioengineering – Dr. Mullins continues to be active as a lecturer, discussion leader, and Course Director.
The Mullins Lab pursues answers to fundamental questions in cell biology and aims to understand how cytoskeletal systems control the shape and internal organization of all living cells. The lab is now venturing into the poorly explored territory of Archaeal cell biology, working to understand fundamental mechanisms underlying cell motility, shape change, cell-cell adhesion, and chromosome segregation.
In 2013, Dr. Mullins was named a Howard Hughes Medical Institute (HHMI) investigator – a prestigious designation awarded to the nation's top biomedical researchers for their scientific excellence. Dr. Mullins has been principal investigator on multiple NIH RO-1 and MIRA grants and was previously co-assistant director (with Dan Fletcher at UC Berkeley) of an NIH-funded Nanomedicine Development Center, organized by Wendell Lim at UCSF.
Outside of UCSF, Dr. Mullins has been an active member of the American Society for Cell Biology (ASCB) since the late 1980's. He previously chaired the Program Committee for the ASCB Annual Meeting and currently serves on the organization's Public Policy Committee. Since 2004, Dr. Mullins has spent summers teaching and conducting research at the Marine Biological Laboratory (MBL) in Woods Hole, Massachusetts. He was co-Director of the intensive Physiology Course and currently serves on the MBL's Advanced Research Training Committee (ARTC). Finally, as an ardent advocate for the reform and acceleration of academic publishing, Dr. Mullins serves on the Board of Directors of ASAPbio, a scientist-driven non-profit promoting transparency and innovation in life science communication.
We would like to express our appreciation to Kevan Shokat, PhD, who has served as interim chair of the Department of CMP since March of this year, when Wendell Lim, PhD stepped down after serving in the role since 2015. We would also like to thank the search committee, chaired by Michelle Arkin, PhD, for their work on this position.
Dr. Mullins is dedicated to securing the future of basic research at UCSF, supporting the research and developing the careers of our talented cadre of junior faculty, improving the climate for women and under-represented minorities, and leveraging our strengths to increase the recruitment of junior faculty who will maintain the Department of CMP's world-class position. We have no doubt that his experiences running a successful laboratory, helping evolve and reform graduate education, directing intensive research courses, and mentoring junior faculty, have given him the tools to provide the type of leadership and guidance that the Department of CMP needs to thrive.