As we work toward our goal of becoming the most diverse, equitable and inclusive academic medical system in the country, we hold ourselves accountable for our progress by looking at data and metrics.  Success will only come as we continue to prioritize this work, implement multiple interventions, and review the numbers. In addition to the information below, robust DEI Statistics are available on the Office of Diversity and Outreach's website. 
Leadership
Women hold just over 40% of leadership positions* overall in the SOM, and UIM hold 12%. From 2015-2020, half of our department chairs turned over and 42%** of those leadership roles were filled by women or UIM appointees.
42%
 UIM or Female New Chair Appointments From 2015 to 2021
25%
UIM or Female Department Chairs
*Dean, Vice Deans, Executive Vice Deans; Department Chairs; ORU Directors; Vice Chairs and Division Chiefs.
**Of the 42% new chair appointments, 42% are female and 25% UIM.
Of the 25% UIM or female department chairs, 21% of our department chairs are female and 7% are UIM.
---
We are working towards diversifying our leadership to mirror the diversity of our faculty.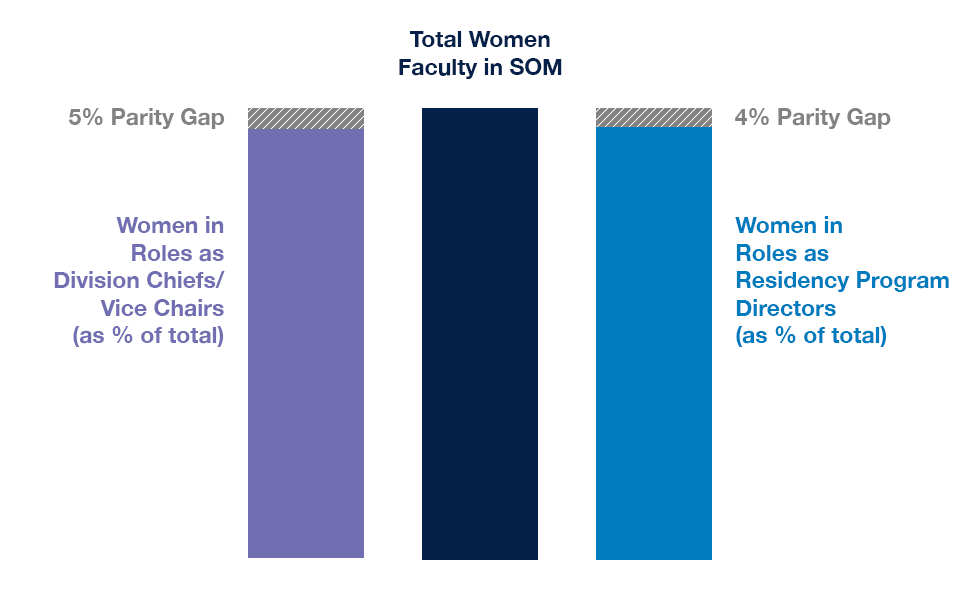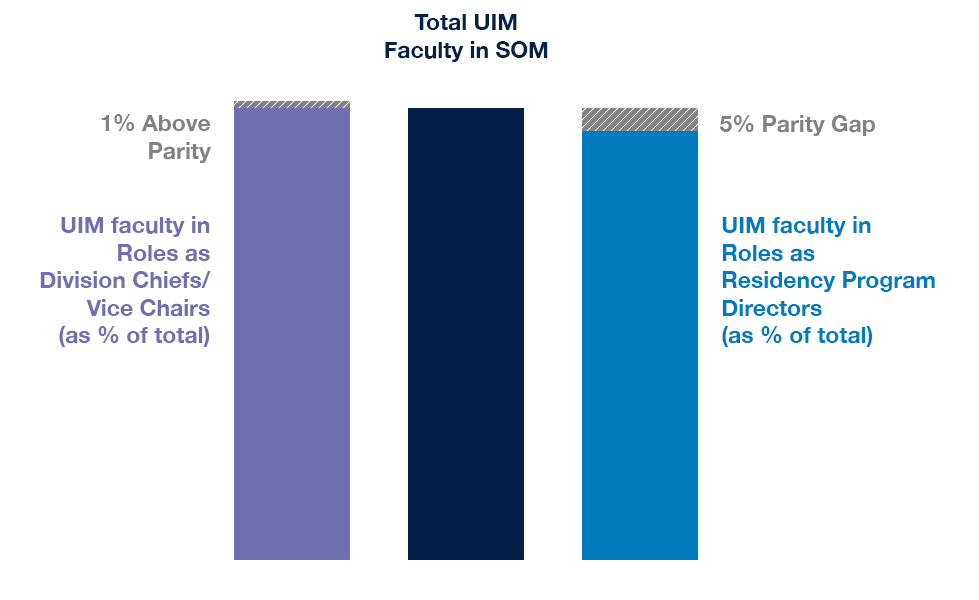 ---
In 2017, we instituted a Guideline for Committee Composition: "All committees appointed by the Dean's Office, departments, divisions, ORU's, and centers, should be comprised of 50% women or those underrepresented in medicine."
An example of how this has changed our demographics is demonstrated through our Endowed Chair Appointments: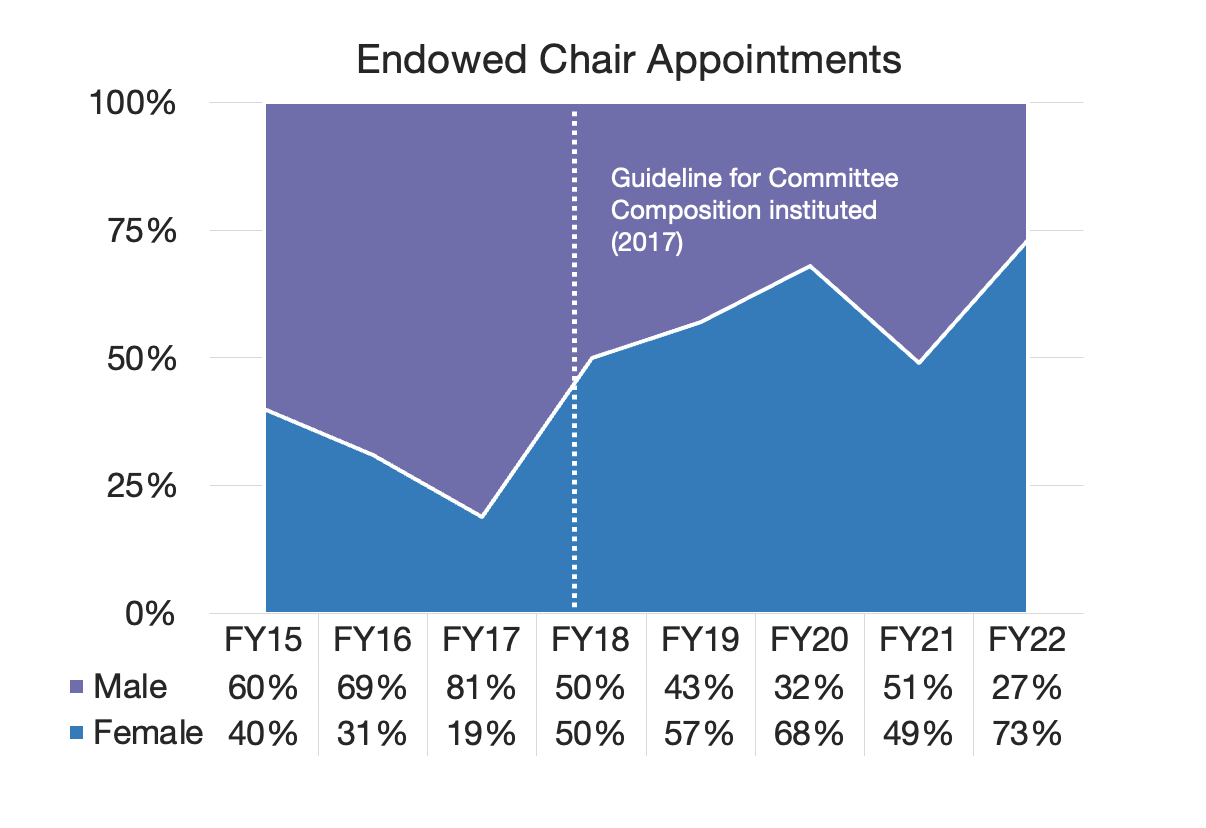 Recruitment, Retention, and Climate
One method we use to benchmark our progress towards recruitment and retention of diverse faculty is through comparison to national data published by the AAMC Diversity in Medicine Facts & Figures. Despite the fact that there remains persistent underrepresentation of certain racial and ethnic minority groups and women in medical school faculty positions nationwide, our individual departments are working to rise above their national counterparts.
| | | |
| --- | --- | --- |
| (based on AAMC national benchmark data) | 2016 | 2022 |
| Clinical departments that met or exceeded expected percent of URM faculty | 50% | 100% |
| Basic science departments that met or exceeded expected percent of URM faculty | 40% | 80% |
| Clinical departments that met or exceeded expected percent of female faculty  | 69% | 88% |
| Basic science departments that met or exceeded expected percent of female faculty | 20% | 60% |
Because there is no AAMC  benchmark data, the following departments are not represented in this data: Laboratory Medicine, Neurological Surgery, Radiation Oncology and Urology 
---
80% of our faculty have completed the Diversity, Equity, and Inclusion (DEI) Champion Training, which includes education on implicit biases and microaggressions, coaching in skills related to addressing these issues, and training in how to apply thoughtful, active listening and empathy to support a more diverse, equitable, and inclusive environment.
80%
OF OUR SOM FACULTY HAVE COMPLETED THE TRAINING
2,429
TOTAL NUMBER OF FACULTY WHO HAVE COMPLETED THE TRAINING
1,756
TOTAL NUMBER OF STAFF AND TRAINEES WHO HAVE COMPLETED THE TRAINING
---
Through our Holistic Review and Best Practices for Diversifying GME Handbook, our Visiting Elective Scholar Program, and our GME Diversity Second Look program, we have increased the number of UIM residents from 17% to 38%.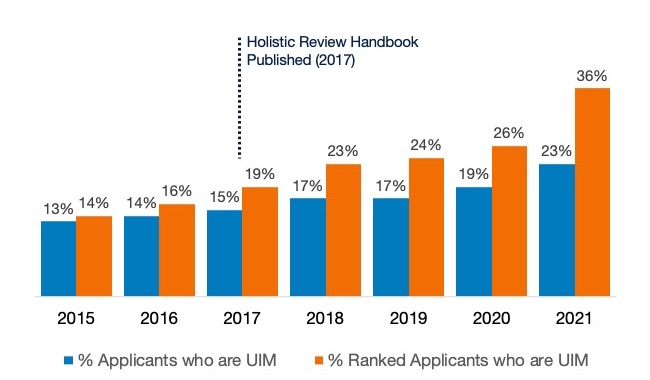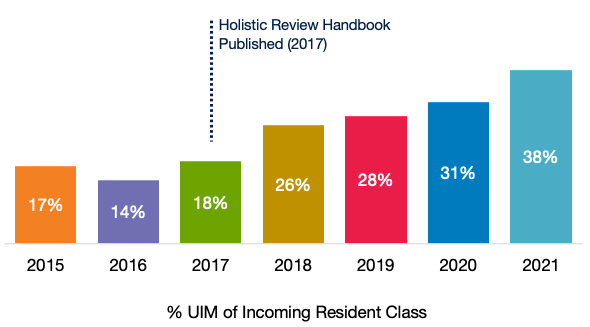 ---
To increase the number of UIM and female basic scientists at UCSF, the Interdepartmental Basic Science Search process was created to pool resources and attract top talent.  Since its inception in 2019 to 2021, 83% of faculty hired to our basic science departments have been UIM or women.
83%
of faculty hired in our basic science departments
in the last two years were UiM or women
Student Admissions
To address the changing competitive landscape for top student talent, the School of Medicine's $100MM Scholarship Initiative had a direct, positive impact on recruitment. In the entering class of 2019, 34% of students were URM. In 2022, 60% of students were URM.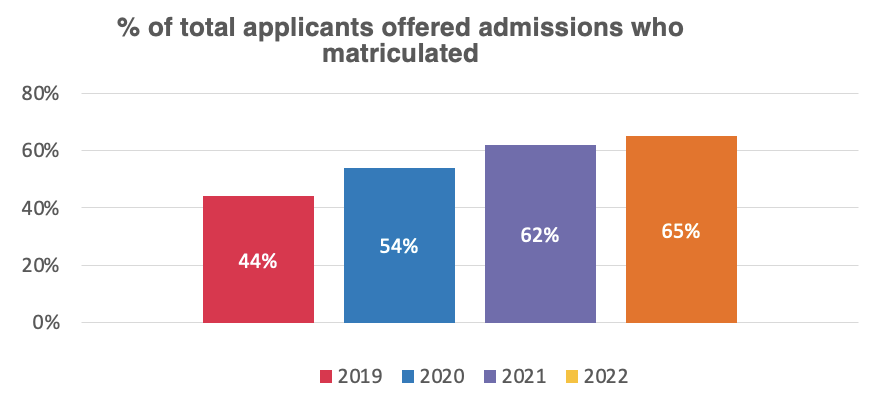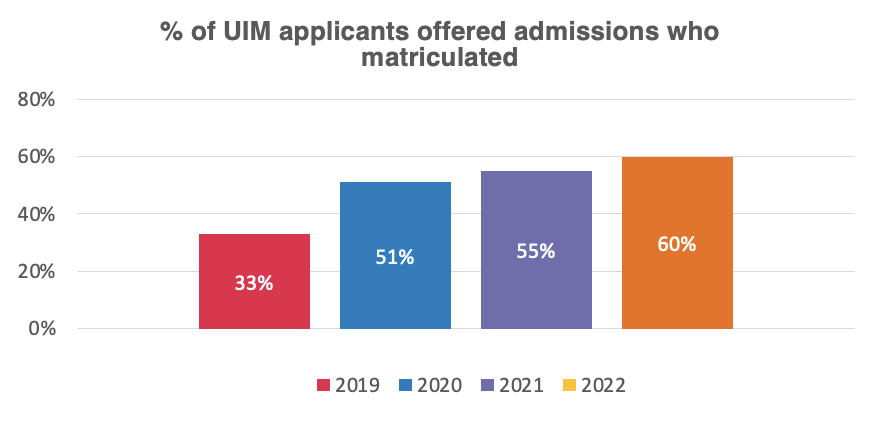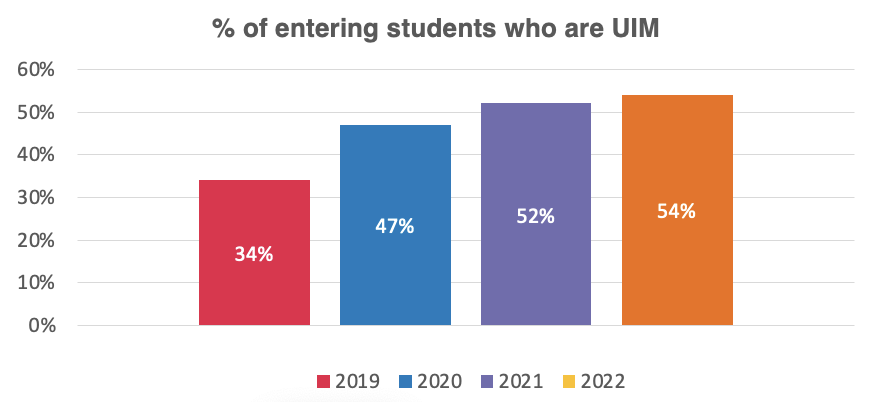 In 2019, 44% of applicants matriculated. In that same year, 33% of UIM applicants matriculated. In 2022, 65% of applicants matriculated, while 60% of UIM applicants matriculated. 
Research
In three years, we tripled the number of NIH Diversity Supplements at UCSF and brought in $2.5 million in funding for URM trainees. 
300%
increase in NIH DIVERSITY SUPPLEMENTS OVER 3 YEARS
$2.5MM
BROUGHT IN FOR URM TRAINEES