Two UCSF Scientists Named Howard Hughes Medical Institute Hanna Gray Fellows
September 12, 2019 | By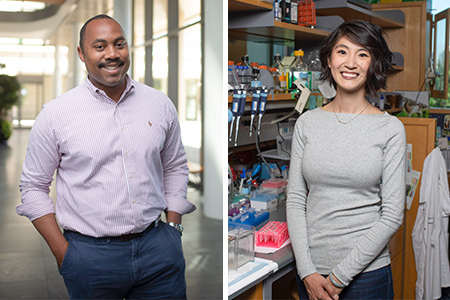 The Howard Hughes Medical Institute (HHMI) has announced the recipients of this year's Hanna Gray Fellowship, recognizing early career scientists from groups underrepresented in the life sciences who have the potential to become leaders in academic research.
Among the 15 awardees were the UCSF School of Medicine's own Christopher Bartley, MD, PhD, a clinical fellow in the Department of Psychiatry, and Jess Sheu-Gruttadauria, PhD, a postdoctoral scholar in the Department of Cellular and Molecular Pharmacology.
Dr. Bartley's work seeks to understand the way that antibodies produced by the human immune system sometimes target the brain and trigger psychiatric symptoms. He suspects that such mistargeted antibodies might help us understand some psychiatric illnesses, and intends to study samples from hundreds of people diagnosed with schizophrenia to discover new misdirected antibodies. His work could ultimately lead to new targets for psychiatric drugs.
"I'm honored to have been selected as a Hanna H. Gray Fellow," said Dr. Bartley. "As a nascent area within translational medicine, immunopsychiatry is rarely identified as a specific funding priority. This fellowship will provide critical longitudinal support as I strive to make contributions to this emerging field."
"Schizophrenia affects one percent of the US population," explained Dr. Bartley's mentors, Dr. Sam Pleasure and Dr. Michael R. Wilson. "If Dr. Bartley's hypothesis is proven correct, and even 1 in 100 of those patient's psychosis is caused by autoimmune dysfunction, that will have a huge effect on how we treat these diseases. Dr. Bartley truly is a star in his field, and the Hanna Gray Fellowship is a testament to that fact."
Dr. Sheu-Gruttadauria is studying the relationship between unconfined organelles–cellular structures that lack the usual confining membranes–and neurodegenerative diseases. The liquid-like organelles may act as an interconnected system, exchanging information via proteins and genetic materials. Decoding the activity and functions of these structures and discovering their potential role in disease could provide clues to treatment.
"I am delighted and grateful to be counted a part of this fantastic group of scientists," said Dr. Sheu-Gruttadauria. "The support so generously given by HHMI will allow me the freedom to explore new and exciting directions–to truly push the boundaries of my curiosity. I deeply hope that this can inspire future generations of diverse scientists to follow their passions, whatever their background, and the scientific community as a whole to embrace the importance of diverse perspectives and talents in tackling the hardest questions that we face in the life sciences."
"The Hanna Gray Fellowship is a great program that trains future leaders in the biological sciences," said Dr. Sheu-Gruttadauria's mentor, Dr. Ron Vale. "Jess is a creative and passionate scientist, and I am thrilled that she was selected to join the cohort of Hanna Gray Fellows."
The program will invest up to $100 million in up to 60 fellows, with each scholar receiving up to $1.4 million each over the course of up to eight years. Fellows are encouraged to follow their curiosity and pursue the answers to the most challenging scientific questions in their fields. This fellowship comes at a critical time in their academic careers–the transition between postdoc and principal investigators, and then as the begin to establish labs of their own.
"HHMI is committed to supporting people who will solve some of the greatest problems in science," said HHMI president Erin O'Shea. "To do this, we need people from all backgrounds – the best solutions will be found by a diverse set of people."