Six UCSF Researchers Win NIH High-Risk, High-Reward Research Grant
October 31, 2022 | By Janah May Oclaman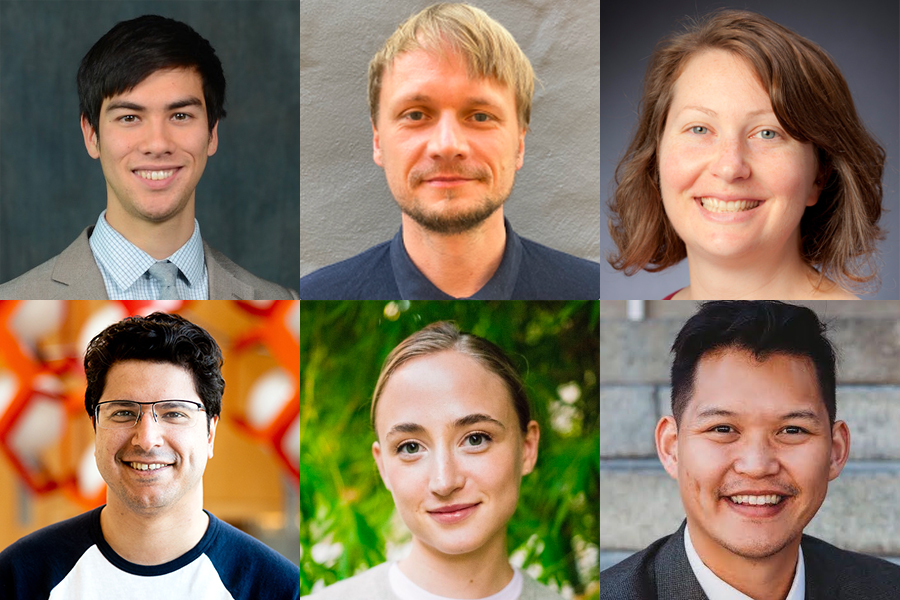 The National Institute of Health (NIH) High-Risk, High-Reward (HRHR) program awards more than $200 million to researchers across different stages of their careers, including six UCSF researchers. The HRHR program under the Common Fund supports research that is "transformative, catalytic, synergistic, cross-cutting, and has unique potential in areas of behavioral and biomedical research".
This year's UCSF awardees are:
The NIH/NIAID New Innovator Award (DP2), developed in 2019, supports early-stage investigators who are exceptionally creative and proposes novel, original, and insightful research concepts with the potential to produce a major impact, test scientific paradigms, or advance key concepts on broad, important problems in biomedical research of priority to NIAID.
Dr. Nathan Lo is a Faculty Fellow in the Division of HIV, Infectious Diseases, and Global Medicine in the UCSF School of Medicine. In his research, he has sought to apply computational tools to better understand transmission of infectious diseases to inform public health policy.
His New Innovator Award will support research to develop predictive modeling tools for California public health departments to allocate targeted vaccines to their highest-risk populations. They will then study the implementation and public health impact of using these predictive tools to guide real-time vaccination policy.  
This is a very exciting opportunity to bring predictive modeling from theory into practice for public health decision making in control of infectious diseases.
The NIH Director's New Innovator Award, established in 2007, supports unusually innovative research from early career investigators who are within 10 years of their final degree or clinical residency and have not yet received an NIH R01 or equivalent grant.
Dr. Jan Christoph is an Assistant Professor at UCSF, where he leads the Cardiac Vision Laboratory. He is a faculty member of the Cardiovascular Research Institute, with an appointment in the UCSF Department of Bioengineering and Therapeutic Sciences. His research interests include: cardiac electrophysiology and tissue mechanics, mechanisms of heart rhythm disorders, the physics of complex biological systems, numerical modeling, artificial intelligence and imaging. In his lab, he develops novel imaging techniques for the visualization of cardiac arrhythmias. 
Dr. Emily Goldberg is an Assistant Professor in the UCSF Department of Physiology where her lab studies how coordination between immune and metabolic systems controls inflammation and chronic disease. For her graduate training, she studied how longevity interventions impact the host immune response to acute infection. She investigated the anti-inflammatory effects of ketone bodies in sterile inflammation and infection for her postdoctoral training. The Goldberg Lab is interested in the aging tissue-resident immune system and how this contributes to functional decline. In addition to the New Innovator award, Dr. Goldberg is also the recipient of the Pathway to Independence award from the National Institute on Aging. 
The NIH Director's Transformative Research Award, established in 2009, promotes cross-cutting, interdisciplinary approaches and is open to individuals and teams of investigators who propose research that could potentially create or challenge existing paradigms.
Dr. Hani Goodarzi is an Associate Professor in the Department of Biochemistry and Biophysics, and a Chan Zuckerberg Biohub Investigator at UCSF. With a dual background in computational and experimental genomics, he brings a multidisciplinary approach to studying complex human diseases. His research is focused on developing novel discovery platforms that help reveal previously unknown molecular mechanisms underlying cellular homeostasis and disease progression. By developing novel technologies for genome-wide measurement of hard-to-quantify RNA molecules, he has also made key discoveries about the role of non-coding RNAs in health and disease. On the computational front, Dr. Goodarzi is focused on building biology-inspired and genome-scale machine learning models that help decode the biology of human genome. Most recently, for his contributions to cancer research, he was awarded the Vilcek Prize for Creative Promise and AACR-MPM Transformative Cancer Research Award.
The NIH Director's Early Independence Award, established in 2011, provides an opportunity to support exceptional junior scientists who have recently received their doctoral degree or completed their medical residency to skip traditional post-doctoral training and move immediately into independent research positions.
Dr. Margaux Pinney is a Sandler Fellow in the Department of Biochemistry and Biophysics at UCSF. For her graduate training, she studied the molecular mechanisms of enzyme function and evolution, focusing on how enzymes evolve to work at different environmental temperatures. She subsequently learned to adapt and develop high-throughput in vitro and in vivo methods for dissecting enzyme sequence-function relationships. The Pinney Lab studies the molecular mechanisms of enzyme function and evolution using a combination of high-throughput biochemistry, organism fitness methods, and computation to integrate information across biological scales. The central goals of the Pinney Lab are to: (1) develop new methods for high-throughput biochemistry via microfluidics, and then use these methods to (2) reveal the design principles of enzymes and (3) provide a fundamental understanding of enzyme evolution.
I am thrilled that the NIH is funding this award. As a fellow with a new lab, this award will be instrumental in launching our research program!
Assistant Researcher, Biochemistry and Biophysics
Dr. Andrew Yang is a Sandler Faculty Fellow in the Department of Anatomy and the Bakar Aging Research Institute. His graduate research focused on understanding the molecular mechanisms and functional relevance of blood-brain barrier transport in brain aging and neurodegenerative disease. Dr. Yang's lab at UCSF engineers new tools to decode the molecular logic of protein and immune cell crosstalk between the brain and body.
This NIH DP5 Award means a lot: it accelerates my independent research career at UCSF and empowers us to pursue bold ideas that likely wouldn't fit in with traditional funding mechanisms. The NIH DP5 has been key to building our lab, and it's been incredibly fulfilling to work together with amazing and adventurous scientists in pursuit of our high-risk, high-reward ideas.
Assistant Professional Researcher, Anatomy
The awards are given by NIH across institutes, centers, and offices, with funding distributable for five years, starting in 2022. HRHR awards funded by NIH Common Fund, the National Institute on Aging, the National Institute of General Medical Sciences, the National Institute of Mental Health, and the National Cancer Institute were announced on October 4, 2022. They awarded a total of 103 researchers with Eight Pioneer awards, Nine Transformative Research awards, 14 Early Independence awards, and 72 New Innovator awards. The National Institute of Allergy and Infectious Disease funded the NIH/NIAID New Innovator Award and was announced on July 29, 2022.