School of Medicine Faculty Interview: Anthony Muiru, MD
October 24, 2018 | By Lesley Snyder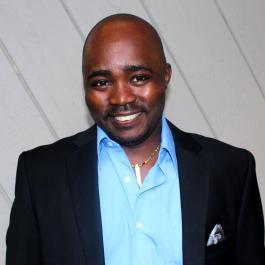 Tell me a bit about your background.
I was born and raised in Kenya. I decided to pursue a career in kidney disease clinical research because of the devastation that I witnessed in East Africa, and the disproportionate burden of kidney disease among African Americans. The parallels between kidney disease among African Americans and Africans living in sub-Saharan Africa (SSA) are intriguing and motivated my interest in an academic research career.
I have partnered with other researchers at UCSF, Uganda and Kenya to establish one of the first large community-based cohort study of kidney diseases in Africa.
October is Diversity Month! Tell me about your work as a John A. Watson Faculty Scholar, and your goals for the future of your work.
My future goal is to become a productive, impactful independent clinical investigator focused on kidney diseases among black people both in America and in East Africa. I am proud to be a black kidney doctor. There is an alarming disparity between the number of black kidney doctors and black kidney patients in the U.S. This serves as a constant reminder of the urgent need to increase the number of black nephrologists in this country. When I was a clinical fellow I took care of a dialysis patient who confided in me that in all his 20 years with kidney failure, he has never seen a black nephrologist. I am committed to caring for many of our underserved patients who rarely, if ever, see themselves reflected in their healthcare team, and contribute to efforts of resolving health disparities.
In terms of my research in Africa, I believe that our results can inform health care policies that may alleviate burden of disease in these resource low settings. A better understanding of genetic susceptibility to kidney disease among Africans will yield valuable insights into mechanisms of kidney disease among persons of African ancestry, including African Americans who carry a disproportionate burden of kidney disease in the U.S. (with ~3-fold higher risk of kidney failure than European Americans).
What is your hope for the future of diversity, equity and inclusion at UCSF, and what is your personal commitment to advancing this cause?
One thing I have tried to cultivate is the feeling of being at home and comfortable. Diversity takes many forms here at UCSF. It's a very broad and useful definition, but most important is making everyone feel welcome and comfortable in their academic home. I try to make everyone feel this way – from fellow clinicians, to trainees and staff.
What are some resources students, faculty, and staff can take advantage of to learn more about DEI efforts at UCSF and/or become allies?
Having discussions and normalizing the conversation about diversity, equity, and inclusion is important. Making sure people know this is not a taboo issue and integrating it into our day-to-day conversations is one of ways we are going to continue moving the needle. For instance, if you see a patient mistreated or someone is treating a student differently because of race, addressing it when it occurs is key.
It's our responsibility as faculty. We want to produce competent clinicians who are going to change the world and best serve patients, but if we don't make ourselves accessible, we are shortchanging them. I hope the students, trainees, and younger generations will have the feeling that I have of being comfortable and accepted in my academic home at UCSF.
Thank you, Anthony!