First In-Person White Coat Ceremony since 2019 Focuses on Shared Humanity and Social Justice
August 22, 2022 | By Cora Palmer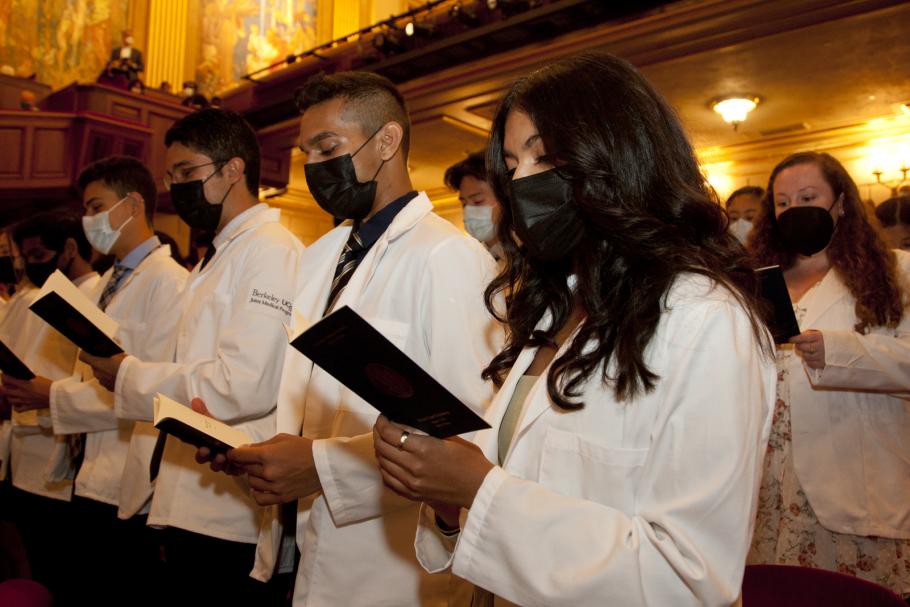 After two years of virtual ceremonies, the 2022 White Coat Ceremony was a stirring in-person celebration. The event marked an important rite of passage into the medical profession for this year's incoming class of UCSF medical students.
The White Coat is a traditional symbol of the medical clinician and scientist, and has come to represent the knowledge, skill, and integrity of our profession," said Marc Schenker, MD, Vice President of the UCSF Medical Alumni Association.
The MD Class of 2026 matriculating on the UCSF campus includes 167 students from a broad range of backgrounds. Fifty-nine percent of the incoming class identify as women and 54 percent are considered "underrepresented in medicine". In addition, 16 students enrolled in the UCSF-UC Berkeley Joint Medical Program (JMP) and will spend their first two and a half years at UC Berkeley. The incoming JMP class consists of 38 percent considered "underrepresented in medicine" and 50 percent of students who identify as women.
"At the UCSF school of medicine and UCSF at large, we have a long history of social activism," said UCSF School of Medicine Dean Talmadge E. King, Jr., MD. "We count on you to champion our goal of making UCSF a place where people from all backgrounds feel they belong and can be successful."