Remembering John F. Murray, MD
March 27, 2020 | By UCSF School of Medicine
It is with great sadness that we share the news that John F. Murray, Professor of Medicine emeritus, has passed away. Dr. Murray was tirelessly dedicated to what was then called San Francisco General Hospital (now, Zuckerberg San Francisco General Hospital & Trauma Center), where he was chief of pulmonology from 1966 until 1989. He arrived at a time when the hospital was being fully integrated into UCSF training programs, and he was a key figure in the successful partnership. In addition, he served as chief of the medical staff and conducted a successful research program, focused mainly on the pathogenesis and treatment of acute lung injury/ARDS. Long after retiring in 1994, he continued to serve as an attending physician in the MICU, teaching and inspiring future physicians to value concern for the patient, above all.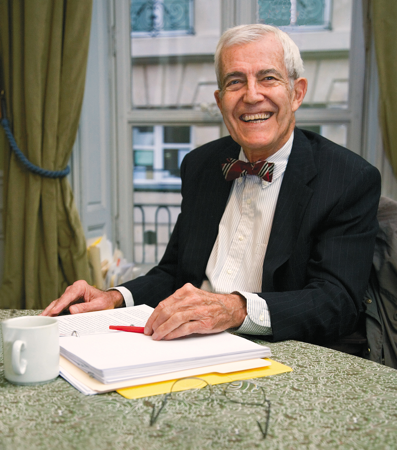 Nationally, Dr. Murray left indelible marks on the clinical practice of pulmonary medicine, the process of selecting and training fellows in pulmonary disease, and on lung disease research. Moreover, he played an instrumental role in the evolution of the American Thoracic Society into the strong, internationally respected professional society it is today. The breadth of his achievements serves as a reflection of his talents for clear thinking, clear writing and clear speaking. He helped to create the field of pulmonology itself, establish its national society and guide its journal, and design its training programs and NHLBI research support.
"I have long admired Dr. Murray. He had an enormous influence on the careers of many young physicians, very much including my own," said Talmadge E. King, Jr., dean of the UCSF School of Medicine. "I admired his keen intellect, amazing skill as a professor of medicine, and his unique ability to present (in his writings and public presentations) difficult topics in a clear and concise manner. Dr. Murray will be dearly missed by his many friends and colleagues at UCSF and throughout the world."
At UCSF, Dr. Murray established the ICU and created a national model for the division. In doing so, he helped lead San Francisco General Hospital to prominence in high-quality research and teaching. During his career, he made major contributions of his own in research to the fields of tuberculosis, ARDS and HIV/AIDS. He was highly regarded by trainees at all levels for his teaching of clinical respiratory physiology, generally focused on patients in the ICU.
It is difficult to overstate his influence on the School of Medicine and how much he has taught our community. Part of his legacy is the John Murray Award for Excellence in Internal Medicine (2003-current) and the John F. Murray Distinguished Professorship. On behalf of the School of Medicine, we would like to extend our condolences to his family, friends, and close colleagues.
Click here to read a letter honoring Dr. Murray by Robert M. Wachter, MD Chair, Department of Medicine.