Remembering Floyd Rector, Jr., MD
February 23, 2023 | By UCSF School of Medicine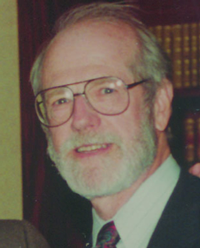 It is with profound sadness that we inform you of the passing of Floyd Rector, Jr., MD. Dr. Rector died last month at his home in Sausalito, after a long illness. He was 93 years old.
In 1973, Dr. Rector was recruited to UCSF by Holly Smith, former chair of the Department of Medicine, to become the chief of the Division of Nephrology at UCSF Health and a senior scientist in the Cardiovascular Research Institute.
 
Dr. Rector was a pioneering researcher, whose work contributed to a deeper understanding of renal handling of sodium, potassium, chloride, and bicarbonate. His laboratory was the world leader in the use of micro-puncture to study clinical electrolyte and acid-base disorders.
 
In 1989, Dr. Rector became the sixth chair of the UCSF Department of Medicine, a position he held until his retirement in 1995. He was known as a warm leader who was committed to improving the environment for the people in the department, whom he cared about deeply. He was widely respected for his generosity, curiosity, and enjoyment of life.
 
Dr. Rector received numerous accolades throughout his career, including the Donald W. Seldin Award of the National Kidney Foundation, the A.N. Richards Award of the International Society of Nephrology, the Robert W. Berliner Award of the American Physiologic Society, and the Homer W. Smith Award of the American Society of Nephrology (ASN) – the highest scientific award in the field. He was president of the ASN from 1976-77, received the Distinguished Alumni Award of Texas Tech University in 1987, and was an elected member of the American Society of Clinical Investigation and the American Association for the Advancement of Science.
 
Although we are deeply saddened by the loss of Dr. Rector, we are also grateful for his legacy of discovery, mentorship, warmth, and joy. He was an outstanding academic physician who lived an exemplary life, and we are honored that he spent much of it at UCSF. On behalf of the School of Medicine, we extend our condolences to Dr. Rector's family, friends, and close colleagues. His loss will be felt far and wide.