Dr. Lauren Roland Receives the 2020 Irene Perstein Award
September 4, 2020 | By UCSF School of Medicine
When Irene Holmes Perstein died in 1995, she left a bequest to provide annual awards to outstanding fulltime, junior women faculty members of the UCSF School of Medicine.
Since 2007, the School of Medicine Perstein Awards have supported women faculty members, appointed at the assistant professor rank, who are expected to develop high caliber independent research programs in basic, clinical, or translational science. The highly competitive awards are based on criteria including the novelty and innovation of the science, and the potential impact on human health.
2020 Award Winner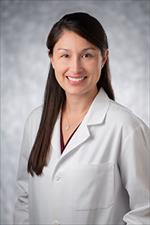 Lauren Roland, MD, came to UCSF in fall of 2019. She completed her residency in Otolaryngology - Head and Neck Surgery, while simultaneously working on two years of dedicated research on a T32 grant. She then completed a one year fellowship in rhinology and skull base surgery at Emory University.
"I am clinically interested in allergy, immunology and rhinology," said Dr. Roland. "My particular research interest is focused on abnormalities in nasal immunity in the immunocompromised host."
Dr. Roland investigates nasal mucosal barriers, immune responses, metabolomics, the microbiome and fungal virulence factors in patients who develop invasive fungal sinusitis–a rare but highly morbid form of sinusitis.
"This is an area of infectious disease, immunology and otolaryngology that is not well studied. My goal is to advance our understanding of how and why this disease develops. My long-term hope is that results will lead to prevention and treatment options," said Dr. Rowland.
"I am so honored to have been this year's recipient of the Irene Perstein Award. UCSF provides a unique collaborative experience amongst clinical physicians and basic scientists. I feel so fortunate for this opportunity to begin my physician-scientist career in this highly motivated environment. In my short time here, I have already worked with several impressive and supportive mentors and collaborators."