2020 Class of UCSF Mid-Career Development Scholars (Inaugural Class)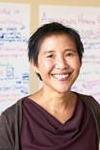 Maria Chao, DrPH, MPA
Maria T. Chao, DrPH, MPA is an associate professor at the University of California San Francisco's Osher Center for Integrative Medicine and the Division of General Internal Medicine at Zuckerberg San Francisco General Hospital. Dr. Chao's overarching goal is to investigate how complementary and integrative health approaches can advance health equity and improve quality of life among underserved populations living with chronic conditions.
Dr. Chao's Mentees: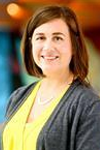 Courtney Lyles, PhD
Courtney Lyles, PhD, is an Associate Professor in the UCSF Departments of Medicine and the Department of Epidemiology and Biostatistics. She is also core faculty in the UCSF Center for Vulnerable Populations at San Francisco General Hospital and co-directs the UCSF CTSI Innovation in Research and Informatics Core. Her research specifically focuses on harnessing health information technology to improve chronic disease self-management and to ultimately reduce disparities in health and healthcare outcomes for marginalized populations.
Dr. Lyles' Mentees: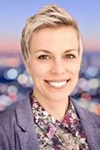 Jae Sevelius, PhD
Jae Sevelius, PhD, is the Director of the Center for AIDS Prevention Studies (CAPS) and the Center of Excellence for Transgender Health. Dr. Sevelius is a licensed clinical psychologist whose research focuses on the investigation of risk and protective factors in transgender and gender diverse communities and relationships between intersectional stigma, gender affirmation, and health-related behaviors and outcomes. Most recently, their research has focused on developing and testing peer-led interventions to promote sexual health and resilience among transgender people by addressing intersectional stigma among transgender women of color and those affected by HIV in the San Francisco Bay Area and in São Paulo, Brazil.
Dr. Sevelius' Mentees: