A Culture Playbook: Applying Wisdom from the SOM Leadership Retreat
Managing change is always challenging – especially in a decentralized institution such as ours. Add to that the ups and downs of the last two years, which have left their mark on our institution and our society for years to come. As we work to reimagine our post-pandemic environment, we grapple with how to intentionally rebuild our culture to preserve what makes UCSF great, while addressing the challenges that the past two years exacerbated. 
With that in mind, we devoted our 2022 School of Medicine Leadership Retreat to culture change. We sought to identify the key characteristics of the dominant UCSF culture and how they show up in the way we work, understand for whom our culture is working, and for whom it is not, envision a strategy to optimize our culture for all who work, learn, care and discover at UCSF, and identify what systems we must put into place to support leaders in creating the conditions in which our faculty, staff, and learners thrive and do their best work.
Book Clubs
We put together a list of several books to provide insight into why organizational culture may work for some and not for others, and plan to sponsor book clubs for any faculty and staff member who is interested. These book clubs will be facilitated by some of the school's leaders and promise lively discussion and the opportunity to get to know some of your colleagues from across the School of Medicine. Our hope is that the book club meetings will stimulate discussion and inspire us to design creative solutions to support a thriving environment for our faculty, staff and learners. If you are interested in participating, please click here.
Books include:
The Conversation by Robert Livingston: An essential tool for individuals, organizations, and communities of all sizes to jump-start dialogue on racism and bias and to transform well-intentioned statements on diversity into concrete actions.
How Women Rise by Sally Helgesen and Marshall Goldsmith: Women face specific and different roadblocks from men as they advance in the workplace. Helgesen and Goldsmith identify the 12 habits that hold women back as they seek to advance, showing why what worked in the past might actually be sabotaging future success.
The Tyranny of Merit: Can We Find the Common Good? by Michael Sandel: Sandel argues that to overcome the crises that are upending our world, we must rethink the attitudes toward success and failure that have accompanied globalization and rising inequality. Sandel shows the hubris a meritocracy generates among the winners and the harsh judgement it imposes on those left behind, and traces the dire consequences across a wide swath of American life. He offers an alternative way of thinking about success--more attentive to the role of luck in human affairs, more conducive to an ethic of humility and solidarity, and more affirming of the dignity of work.
Think Again by Adam Grant: Intelligence is usually seen as the ability to think and learn, but in a rapidly changing world, there's another set of cognitive skills that might matter more: the ability to rethink and unlearn. Grant argues that intelligence is no cure, and it can even be a curse: being good at thinking can make us worse at rethinking. The brighter we are, the blinder to our own limitations we can become.
The Premonition: A Pandemic Story by Michael Lewis: Nonfiction thriller pits a band of medical visionaries against the wall of ignorance that was the official response of the Trump administration to the outbreak of COVID-19. Looks at a small number of unheralded individuals working within vast systems, and uses them to portray the workings (or, in this case, not-workings) of those systems.
2022 Speakers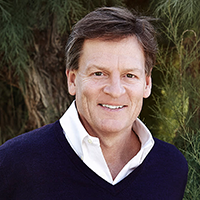 Michael Lewis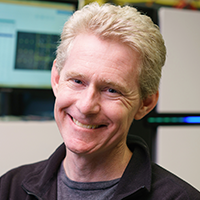 Joe DeRisi, PhD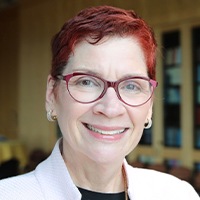 Catherine Lucey, MD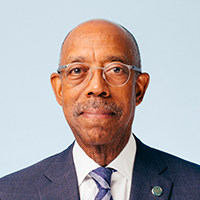 President Michael V. Drake, MD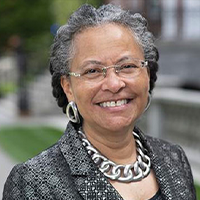 Camara Phyllis Jones, MD, MPH, PhD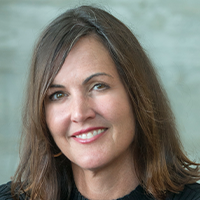 Kellie McElhaney, PhD
Michael Lewis
Michael Lewis has published many New York Times bestselling books on various subjects. His most recent works are The Premonition,The Fifth Risk,The Undoing Project, Flash Boys , and The Big Short. The Blind Side, published in 2006, tells the story of Michael Oher, a poor, illiterate African-American kid living on the streets of Memphis whose life is transformed after he is adopted by white Evangelical Christians. Before that he wrote Moneyball, a book ostensibly about baseball but also about the way markets value people. Both of his books about sports became movies, nominated for Academy Awards, as did his book about the 2008 financial crisis, The Big Short. His other works include Boomerang,The New New Thing, about Silicon Valley during the Internet boom; Coach, about the transformative powers of his own high school baseball coach; Losers, about the 1996 Presidential campaign; and Liar's Poker, a Wall Street story based in part on his own experience working as a bond salesman for Salomon Brothers.
Mr. Lewis is a columnist for Bloomberg View and a contributing writer to Audible. His articles have also appeared in Vanity Fair, The New York Times Magazine, The New Yorker, Gourmet, Slate, Sports Illustrated, Foreign Affairs, and Poetry Magazine. He has served as editor and columnist for the British weekly The Spectator and as senior editor and campaign correspondent for The New Republic. He has filmed and narrated short pieces for ABC-TV's "Nightline;" created and presented a four part documentary on the social consequences of the internet for the British Broadcasting Corporation; and recorded stories for the American public radio show, This American Life.
Mr. Lewis grew up in New Orleans and remains deeply interested and involved in the city. He holds a bachelor's degree in art history from Princeton and a master's degree in economics from the London School of Economics. He lives in Berkeley, California with his wife, Tabitha Soren, and their three children: Quinn, Dixie and Walker. In 2009 he published Home Game: An Accidental Guide to Fatherhood, about his attempts to raise them.
Joseph DeRisi, PhD
DeRisi is infusing biomedical research with an inventor's flair. He led the development of a new diagnostic tool called the Virochip. Containing DNA from every known virus, the Virochip can quickly scan blood or spinal fluid for evidence of infection. A self-described "biologist who is also a serious computer nerd," his lab at the University of California, San Francisco, is combining an innovative software tool with new genome sequencing technology to develop a prototype diagnostic test that could reveal any infectious disease with near certainty.
DeRisi employs an interdisciplinary approach to his work, combining genomics, bioinformatics, biochemistry, and bioengineering to study parasitic and viral infectious diseases in a wide range of organisms. He was one of the early pioneers of DNA microarray technology and whole-genome expression profiling, and he is nationally recognized for his efforts to make this technology accessible and freely available. Today, he uses this approach to study the activity of the full range of malaria genes and is generating provocative insights into many emerging viral diseases.
DeRisi is a professor of biochemistry and biophysics at the University of California, San Francisco. In 2004, he was chosen for a MacArthur Fellowship. In addition to being a Searle Scholar and a Packard Fellow, DeRisi has received the Heinz Award in Technology, the Economy and Employment, and was named an Eli Lilly and Company Research Award Laureate. He was elected to the American Academy of Arts and Sciences in 2015 and the National Academy of Sciences in 2016. He was also an Investigator of the Howard Hughes Medical Institute from 2005 to 2016. He received a B.A. in biochemistry and molecular biology from the University of California, Santa Cruz, in 1992, and a Ph.D. in biochemistry from Stanford University in 1999.
DeRisi's work to rapidly launch a COVID-19 testing facility at CZ Biohub early in the pandemic, which ultimately offered free testing and gene sequencing to all 58 California Departments of Public Health, is chronicled in Michael Lewis' new book, The Premonition.
Catherine Lucey, MD
Dr. Catherine R. Lucey is Vice Dean for Education and Executive Vice Dean for the School of Medicine at the University of California, San Francisco (UCSF). She directs the undergraduate, graduate and continuing medical education programs of the School of Medicine and the Office of Medical Education. Dr. Lucey is on the executive management team for the School of Medicine's Differences Matters Initiative and oversees other strategic initiatives for the medical school and the campus.
Dr. Lucey's national portfolio of work has included membership on the National Academy of Medicine, the Board of Directors of the Association of American Medical Colleges and the American Board of Medical Specialties. Additionally, she served as Chair of the American Board of Internal Medicine. In these roles, she has worked to influence the direction of academic medicine and the continuum of medical education in ways aligned with UCSF's approach to education, culture and community.
Dr. Lucey joined UCSF from Ohio State University, where she was Vice Dean for Education for the College of Medicine and Associate Vice President for Health Sciences Education for the Office of Health Sciences. She completed her residency in internal medicine at UCSF, including service as Chief Resident at the UCSF affiliated San Francisco General Hospital.
She earned her medical degree from Northwestern University School of Medicine.
President Michael V. Drake, MD
In August 2020, Michael V. Drake, M.D. became the 21st president of UC's world-renowned system of 10 campuses, five medical centers, three nationally affiliated labs, more than 280,000 students and 230,000 faculty and staff.
Dr. Drake previously served as president of The Ohio State University (OSU) from 2014 through June 2020. Prior to his six years at OSU, his entire academic career has been at UC, including as chancellor of UC Irvine for nine years from 2005 to 2014 and as the systemwide vice president for health affairs from 2000 to 2005.
Drake received his A.B. from Stanford University and his residency, M.D., and fellowship in ophthalmology from UCSF. He subsequently spent more than two decades on the faculty of the UCSF School of Medicine, including as the Steven P. Shearing Professor of Ophthalmology.
Under his leadership, Drake greatly enhanced UC Irvine's reputation as a premier university. UC Irvine rose to join the top 10 public universities in U.S. News & World Report's annual list and was ranked by Times Higher Education as the No. 1 university in the U.S. under 50 years old. During his tenure at the campus, the four-year graduation rate increased by more than 18 percent, while undergraduate enrollment and diversity significantly increased. In addition, Drake oversaw the establishment of new schools of law and education as well as programs in public health, nursing and pharmacy.
Drake has published numerous articles and co-authored six books. He served as a reviewer for several medical journals, including the Journal of the American Medical Association, Investigative Ophthalmology and Visual Science and the American Journal of Ophthalmology. Drake is a member of several national scientific and scholarly societies, and has received various awards for teaching, public service, mentoring and research. He is a member of the National Academy of Medicine and the American Academy of Arts and Sciences. He received the UCSF School of Medicine's Clinical Teaching Award, the Hogan Award for Laboratory Research, the Chancellor's Award for Public Service, the Martin Luther King Jr. Award for University Service, the UC Irvine Medal, and the University of California Presidential Medal in recognition of his exemplary service to the University.
Drake's extensive public service experience includes various roles for the American Medical Association, the National Eye Institute, the Association of American Medical Colleges, and multiple commissions on health in the state of California. He is a former chair of the board of directors of the Association of American Universities and currently serves as a member of the board of directors for the Association of Public and Land-grant Universities. He is also the chair of the board of governors of the National Collegiate Athletic Association, a member of the American Talent Initiative Steering Committee, and a member of the board of directors of the Rock and Roll Hall of Fame.
Camara Phyllis Jones, MD, MPH, PhD
Camara Phyllis Jones, MD, MPH, PhD is a family physician and epidemiologist whose work focuses on naming, measuring, and addressing the impacts of racism on the health and well-being of the nation.
Dr. Jones is currently serving as UCSF Presidential Chair, and is engaging with UCSF partners to create an equity roadmap at UCSF guided by three principles: valuing all individuals and populations equally, recognizing and rectifying historical injustices, and providing resources according to need. Dr. Jones will provide a framework for naming racism and moving to action that acknowledges that racism exists, racism is a system, racism saps the strength of the whole society, and the UCSF community can act to dismantle racism. She will guide the application of the question "How is racism operating here?" to identify levers for intervention within the UCSF context to dismantle racism (and other systems of structured inequity) in health science, education, academic careers, care delivery, and discovery.
Dr. Jones recently completed tenure as the 2019-2020 Evelyn Green Davis Fellow at the Radcliffe Institute for Advanced Study at Harvard University.
She is also a Senior Fellow at the Satcher Health Leadership Institute at the Morehouse School of Medicine; an Adjunct Professor at the Rollins School of Public Health at Emory University in the Department of Behavioral Sciences and Health Education and the Department of Epidemiology; and an Adjunct Associate Professor at the Morehouse School of Medicine in the Department of Community Health and Preventive Medicine.
Past roles include Assistant Professor at the Harvard School of Public Health in the Department of Health and Social Behavior, Department of Epidemiology, and Division of Public Health Practice (1994 to 2000); Medical Officer at the Centers for Disease Control and Prevention (CDC) in the Division of Adult and Community Health, National Center for Chronic Disease Prevention and Health Promotion (Research Director on Social Determinants of Health and Equity, 2000 to 2010) and in the Division of Epidemiologic and Analytic Methods for Population Health, Office of Surveillance, Epidemiology, and Laboratory Services (2010 to 2014); and President of the American Public Health Association (2015 to 2016).
At the CDC, Dr. Jones led the development and inclusion of the six-question "Reactions to Race" module on the Behavioral Risk Factor Surveillance System, and the organization and formalization of the CDC Racism and Health Workgroup as an official CDC scientific workgroup.  As President of the American Public Health Association, she launched the 25,000-member association and its 54 state affiliates (with another 25,000 members) on a National Campaign Against Racism.
She is currently a member of the National Academies of Sciences, Engineering, and Medicine's Roundtable on Black Men and Black Women in Science, Engineering, and Medicine; the National Board of Public Health Examiners; the Board of Directors of the DeKalb County [Georgia] Board of Health; and a faculty member of the Accreditation Council for Graduate Medical Education's Quality Improvement: Health Care Disparities Collaborative.
Dr. Jones earned her BA in Molecular Biology from Wellesley College (1976); her MD from the Stanford University School of Medicine (1981); her Master of Public Health from the Johns Hopkins School of Hygiene and Public Health (now the Johns Hopkins Bloomberg School of Public Health) (1982); and her PhD in Epidemiology from the Johns Hopkins School of Hygiene and Public Health (1995). She also completed residency training in General Preventive Medicine at the Johns Hopkins School of Hygiene and Public Health (1981 to 1983) and residency training in Family Practice at the Residency Program in Social Medicine at Montefiore Medical Center (1983 to 1986).
Kellie McElhaney, PhD
Dr. McElhaney is the Founder and Executive Director of the Center for Equity, Gender and Leadership (EGAL) and on the faculty at the Haas School of Business at the University of California, Berkeley.  She also runs her own Equity Fluent Leadership Consultancy and Advisory Services.
A passionate believer in the potential and power of business to make positive change, Kellie has spent her career in that pursuit. Through provocative thought-leadership, evidence-based storytelling, and courageous and bold action, Kellie has challenged and supported business leaders, organizations and students to address some of society's biggest challenges and win in the marketplace. Notably, she was the founder of the Center for Equity Fluent Leadership in 2017 and the Center of Responsible Business in 2003. Kellie is a much sought-after global keynote speaker, corporate / c-suite advisor, strategy consultant, mentor, and professor.
The Center for Equity, Gender and Leadership has as its mission educating equity fluent leaders to ignite and accelerate change.  Kellie helped develop this leadership construct and teaches it across the country and globe, from the U.S. to Europe to the Middle East.   Equity fluent leaders understand the value of different lived experiences and courageously use their power to address barriers, increase access, and drive change for positive impact.  Haas graduates over 1,000 leaders a year; the Center for EFL will ensure that they are all equity fluent.  The center also partners with the corporate sector training mid- to executive-level business leaders through an EFL Academy, producing EFL playbooks and moving companies along their strategic equity fluent leadership journey.
Kellie also founded the Center for Responsible Business (CRB), solidifying corporate responsibility as a core competency and competitive advantage of Berkeley-Haas. Due to Kellie's leadership, Haas was rated #1 in the world for corporate responsibility by The Financial Times.  She received the Founder and Visionary Award at Haas in 2013 for this work.
Kellie authored a book entitled Just Good Business: The Strategic Guide to Aligning Corporate Responsibility and Brand. She writes case studies of companies who are investing in diversity and inclusion (Wal-Mart, Gap, Inc., Boston Consulting Group, Zendesk.  Her Gap, Inc. Equal Pay case won the California Management Review Case of the Year in 2017.  She was named one of the Bay Area's Most Influential Women in 2019 by the S.F. Business Times.
2022 Panelists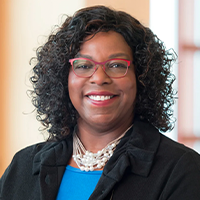 Sheila Antrum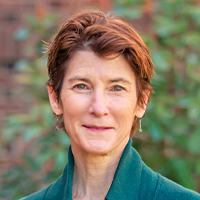 Susan Ehrlich, MD, MPP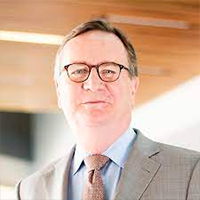 Sam Hawgood, MBBS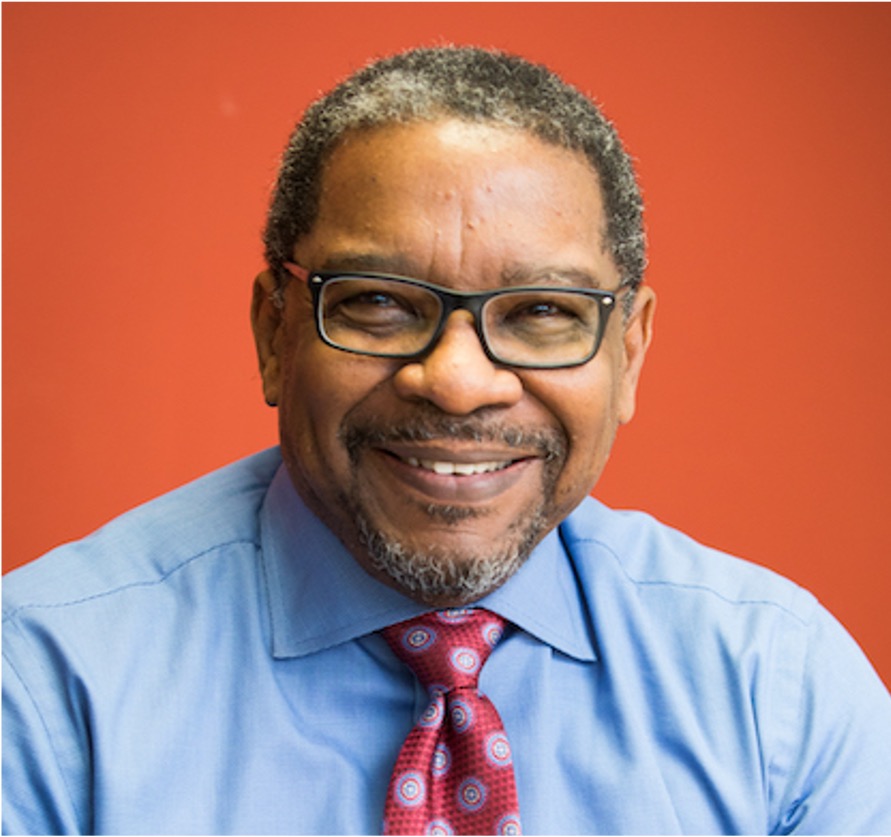 Talmadge E. King, Jr, MD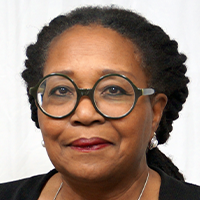 Maga Jackson-Triche, MD, MSHS
Sheila Antrum, MHSA
Sheila Antrum is senior vice president and chief operating officer at UCSF Health. She ensures that the operations of patient services across the health system align with UCSF Health's vision and strategic objectives. She oversees strategic implementation of UCSF Health's affiliations, finances, quality and safety for adult patient services across UCSF Health's locations and affiliates on the west side of the bay and has matrixed responsibilities for operations in children's and cancer services. Nursing, clinical services, facilities, supply chain, major construction projects, pharmaceutical, women's services and perioperative services report to her.
Antrum has been with the University of California for more than two decades. She recently served as chief nursing and patient care services officer for UCSF Medical Center and UCSF Benioff Children's Hospital San Francisco, and previously worked at the University of California, San Diego Medical Center and the University of Pennsylvania's Perelman School of Medicine. She holds a bachelor's degree in nursing from Hampton University and a master's in health services administration from the University of Michigan School of Public Health.
Susan Ehrlich, MD, MPP
Dr. Ehrlich is the Chief Executive Officer of the Priscilla Chan and Mark Zuckerberg San Francisco General Hospital and Trauma Center, and a Professor of Medicine with the University of California, San Francisco. ZSFG is a 397-bed acute care hospital that is a key part of the San Francisco Health Network and the San Francisco Department of Public Health. ZSFG is owned and operated by the City and County of San Francisco, and through its long-standing affiliation with the University of California, San Francisco, serves as the City's only Level 1 Trauma Center and its only 24/7 psychiatric emergency department. Annually, ZSFG serves 108,000 patients, provides 20% of the City's inpatient care, psychiatric emergency and inpatient services, and more than a half-million full-scope ambulatory primary and specialty care visits. ZSFG serves all San Franciscans and is focused on its most vulnerable citizens, with the vast majority of its patients on Medicaid, Medicare, or uninsured.
Prior to her appointment at ZSFG, Dr. Ehrlich served as the Chief Executive Officer, Chief Medical Officer, Vice President of Ambulatory Care Services, founding Medical Director of the Ron Robinson Senior Care Center and Assistant Health Officer for the San Mateo County Health System. Dr. Ehrlich also has extensive background and knowledge of public health policy and finance at all levels of government, having served as Budget and Planning Director for the San Francisco Department of Public Health and a health care analyst within the California State Legislative Analyst's Office. She is a Lean-certified physician executive with extensive expertise leading and transforming public health care organizations serving diverse and vulnerable populations. Dr. Ehrlich received her BA in Public Policy Studies from Duke University, her Master's in Public Policy from the Goldman School of Public Policy at the University of California, Berkeley, and her MD from the University of California, San Francisco. She is board-certified in Internal Medicine and completed her primary care internal medicine residency at Brigham and Women's Hospital, a Harvard University-affiliated training hospital. She continues to practice primary care internal medicine at the Richard Fine People's Clinic on the ZSFG campus.
Sam Hawgood, MBBS
Sam Hawgood, MBBS, is currently the Chancellor and holds the Arthur and Toni Rembe Rock Distinguished Professor appointment at the University of California, San Francisco (UCSF). Dr. Hawgood graduated from the University of Queensland in Australia in 1975. After graduation, he trained in pediatrics with a sub-specialty interest in neonatology in Australia. Dr. Hawgood moved to the Cardiovascular Research Institute at UCSF in 1982 to work with Drs. Tooley and Clements, pioneers in the discovery and therapeutic uses of pulmonary surfactant in premature babies. Dr. Hawgood served as Division Chief of Neonatology from 1994 to 2006, Associate Director of the CVRI since 1997, and Chair of Pediatrics and Physician-in-Chief of the UCSF Children's Hospital from 2003-2009, and Dean of the School of Medicine from 2009-2014. He was the President of the Society for Pediatric Research in 1999 and is a member of the National Academy of Medicine. 
Maga Jackson-Triche, MD, MSHS
Maga Jackson-Triche, MD, MSHS is the current UCSF Health Executive Advisor for Diversity, Equity and Inclusion and Assistant Vice Chancellor in the Office of Diversity and Outreach. Prior to this new role, she was UCSF Health Vice President for Adult Behavioral Health Services and Vice Chair for Adult Behavioral Health Services in the UCSF Department of Psychiatry
Dr. Jackson-Triche received her MD from University of Chicago's Pritzker School of Medicine and her MSHS from the UCLA School of Public Health. She has served in key administrative leadership roles and prior to coming to UCSF in 2016 was Chief Mental Health Officer for the Veterans Health Administration Sierra Pacific Network with responsibility for addressing the mental health needs of over 1 million veterans in Northern California, Nevada, Hawaii, Guam, American Samoa, and the Philippines.
Besides UCSF, she has held academic appointments at the UCLA David Geffen School of Medicine, Tulane University School of Medicine and School of Public Health, and UC Davis School of Medicine. She is a Fellow of the American Psychiatric Association (APA) and a member of the American College of Psychiatrists.
Talmadge E. King, Jr., MD
Talmadge E. King, Jr., MD, was named dean of the UCSF School of Medicine and vice chancellor for medical affairs in May 2015. He began his career at UCSF in 1997 as chief of Medical Services at San Francisco General Hospital. Since 2006, he has served as chair of the UCSF Department of Medicine, the largest department in the school, with approximately 29 percent of the school's full-time faculty.
A physician-scientist, King's research has focused on inflammatory and immunologic lung injury. He is best known for his pioneering work in the management of the interstitial pneumonias, a scarring process that often leads to death. His bibliography comprises more than 300 publications and he has co-edited eight books, including the acclaimed reference book, Interstitial Lung Disease.
During King's tenure as chair, the Department of Medicine was consistently the number one recipient of research dollars from the National Institutes of Health (NIH) among all departments of internal medicine in the nation. In 2014, the Department was rated the third best in the country and among the department's subspecialty programs, five were ranked in the top ten: Diabetes & Endocrinology, Cancer, Nephrology, Geriatrics, and Rheumatology. In 2014, its internal medicine residency program was rated the third best in the country.
King graduated from Gustavus Adolphus College and earned his medical degree at Harvard Medical School, followed by a residency at Emory University Affiliated Hospitals in Atlanta and a pulmonary fellowship at the University of Colorado Health Sciences Center in Denver.
He is a member of the Institute of Medicine of the National Academy of Sciences, American Academy of Arts and Sciences, Association of American Physicians, American Clinical and Climatological Association, and the Fleischner Society. He is a master of the American College of Physicians and fellow of the American College of Chest Physicians. He won the 2007 Trudeau Medal, the highest honor of the American Lung Association and American Thoracic Society.